Introduction
Exxon Mobil Corporation, commonly known as ExxonMobil, is one of the world's largest publicly traded oil and gas companies. With a rich history dating back to the late 19th century, ExxonMobil has been a significant player in the energy sector. This article provides a comprehensive analysis of ExxonMobil (NYSE: XOM), focusing on its stock performance, recent news, and AI predictions for its future performance. We will also discuss how FinBrain Technologies can help investors make informed decisions about XOM stock.
About Exxon Mobil Corp.
Founded on November 30, 1999, ExxonMobil is an American multinational oil and gas corporation and the largest direct descendant of John D. Rockefeller's Standard Oil. The company is headquartered in Irving, Texas, and as of 2022, it employs approximately 62,000 people worldwide. ExxonMobil operates in all sectors of the oil and gas industry, including exploration, production, refining, and marketing of petroleum products.
As of June 15, 2023, ExxonMobil has a market capitalization of $425.16 billion. The company's stock closed at $105.16, with a year-to-date (YTD) performance of -4.66%. ExxonMobil's price-to-earnings (P/E) ratio stands at 7.11, indicating that the stock could be undervalued compared to its earnings. The company also offers a dividend yield of 3.46%, making it an attractive option for income-focused investors.
Recent News and Its Impact
The recent news surrounding ExxonMobil has been a mixed bag, with some reports suggesting potential challenges and others indicating positive trends. Let's delve deeper into these developments and their potential impact on ExxonMobil's stock price.
One of the recent news reports highlighted that ExxonMobil's thinning margins have led to a downgrade from analysts. This news is significant as analyst ratings often influence investor sentiment and can lead to changes in the stock price. A downgrade usually suggests that analysts believe the company's future earnings potential might not be as strong as previously thought. This could lead to a negative sentiment among investors, potentially causing a decline in the stock price.
In addition to these developments, there have been several other news reports that could impact ExxonMobil's stock price. For instance, a report from Zacks suggests that ExxonMobil, along with Chevron and Pioneer Natural Resources, are better equipped to weather any commodity price downturn due to their strong balance sheets. This could boost investor confidence in ExxonMobil and potentially lead to an increase in its stock price.
Another report from Reuters alleges that ExxonMobil was involved in the illegal lifting of petroleum products from an offshore terminal in Nigeria. ExxonMobil has denied these allegations, stating that its operations are carried out in full compliance with the law. If these allegations prove to be true, they could harm ExxonMobil's reputation and potentially lead to a decline in its stock price.
AI Predictions and Alternative Data for XOM
In the realm of stock market predictions, artificial intelligence (AI) has emerged as a powerful tool. AI algorithms can analyze vast amounts of data and identify patterns that may not be apparent to human analysts. One such example of this is the AI predictions made by FinBrain Technologies for ExxonMobil's stock price.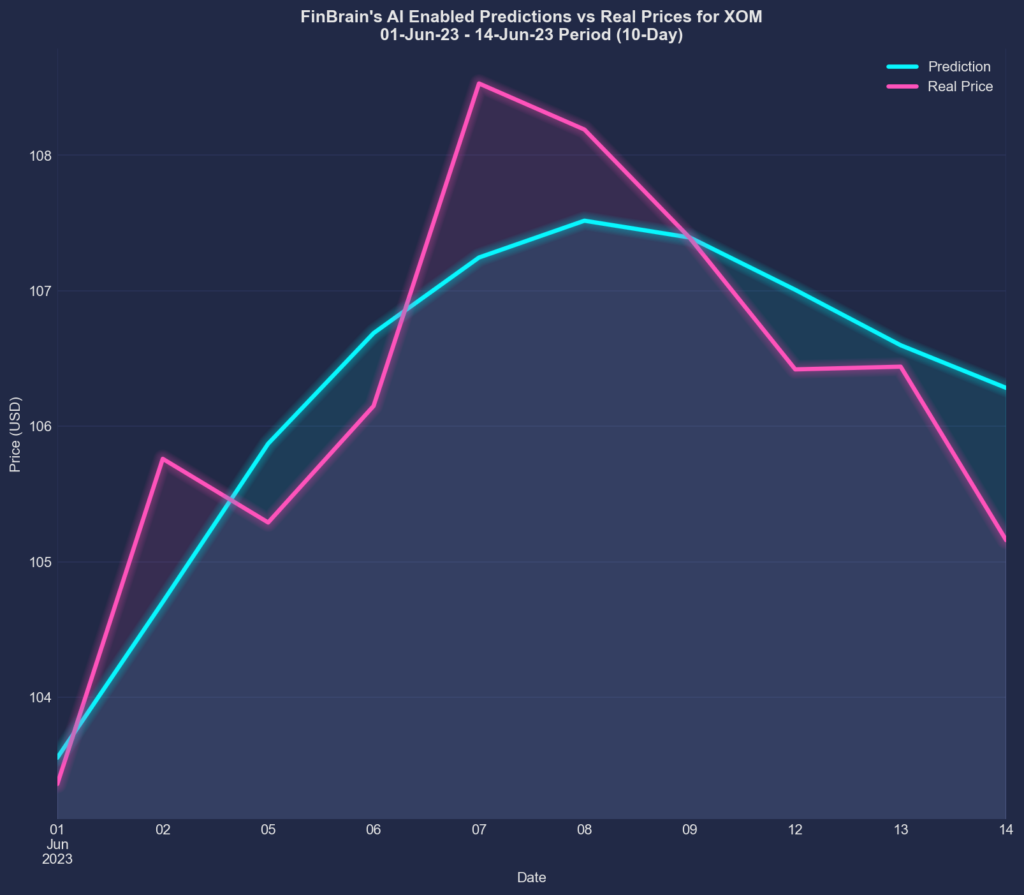 Between June 1 and June 14, 2023, FinBrain's AI algorithms predicted a 4.02% change in XOM stock price. The actual price change during this period was 2.92%, indicating a remarkable forecast accuracy with a Normalized Mean Squared Error (NMSE) of 0.551. The real price almost perfectly followed FinBrain's predictions, demonstrating the power of AI in stock price forecasting.
This level of accuracy is not a coincidence but the result of sophisticated AI algorithms analyzing massive amounts of data. These algorithms consider a wide range of factors, including historical price data, market trends, economic indicators, and more. By analyzing these factors, the AI can make highly accurate predictions about future stock price movements.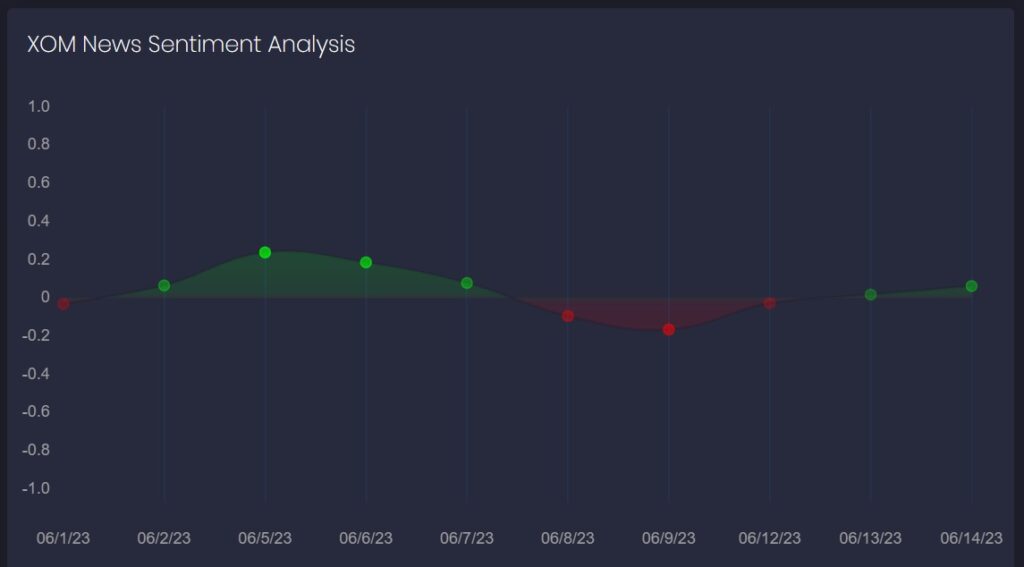 In addition to price forecasts, FinBrain also provides alternative data that can offer valuable insights into a stock's performance. For instance, FinBrain's news sentiment score for XOM remained in positive territory until June 7, after which it turned negative and stayed near neutral. This shift in sentiment aligns with the price increase and subsequent decline during the corresponding periods, further highlighting the value of alternative data in predicting stock price movements.
Alternative data, such as news sentiment scores, can provide investors with a more comprehensive view of a stock's performance. Traditional financial data, such as earnings reports and balance sheets, can provide valuable information about a company's financial health. However, they may not fully capture the myriad factors that can influence a stock's price. By incorporating alternative data into their analysis, investors can gain a more nuanced understanding of a stock's performance and make more informed investment decisions.
Making Better Informed Investment Decisions
FinBrain Technologies provides AI stock forecasts and alternative financial data, such as news sentiment analysis, mobile app score ratings, US Congress members' trades, option put-call ratios, company insider transactions, and much more. Our company leverages the power of AI-assisted and data-driven investing to help individual investors maximize their investment returns.
We provide a range of services on FinBrain Terminal and through FinBrain API, including AI-generated future price predictions, company daily technical outlook reports, news & sentiment analysis data, US House & Senate trades, company insider transactions, options put-call ratios, and mobile app scores. These services can help traders and investors from all around the world make informed investment decisions.
Our AI algorithms have demonstrated remarkable accuracy in predicting stock price movements, as evidenced by our forecasts for XOM and other stocks. For instance, our AI algorithms accurately predicted the price movements of IBM, ARKW, PFE, JNJ, AMZN, TSLA, and AAPL.
Our alternative datasets have also proven valuable in predicting stock price movements. For example, our analysis of insider trades provided early signals of price movements for Gitlab, Alphabet, and Devon Energy.
Conclusion
Investing in the stock market requires careful analysis and informed decision-making. With AI predictions and alternative data from FinBrain Technologies, investors can gain a competitive edge and maximize their returns. Whether you're interested in ExxonMobil or any other stock, FinBrain can provide the insights you need to make informed investment decisions.
To learn more about our services and how we can help you in your investment journey, visit our website at www.finbrain.tech and register today.
FinBrain Technologies
Twitter • LinkedIn • Instagram • Facebook
99 Wall St. Suite #2023, New York, NY 10005