Introduction
In today's fast-paced financial world, the ability to predict stock movements is invaluable. With the rise of AI and alternative datasets, investors now have powerful tools at their disposal to forecast stock prices with remarkable accuracy. One such case study that showcases this predictive prowess is the MRNA stock forecast for Moderna Inc.
About Moderna Inc.
Moderna Inc., trading under the ticker MRNA, is a commercial-stage biotech company that has gained significant attention in recent years.
Founded in 2010, Moderna had its initial public offering in December 2018. The company's groundbreaking mRNA technology was rapidly validated with its COVID-19 vaccine, which received authorization in the United States in December 2020.
In terms of financial metrics, as of September 29, 2023, Moderna's stock price stood at $103.29. The company has a market capitalization of $39.311 billion and a P/E ratio of 34.43. Moderna does not offer dividends, and its stock has seen a 52-week range between $95.02 and $217.25.
Latest News on Moderna Inc.
Recent headlines about Moderna Inc. have been quite intriguing:
Moderna's Vaccine Demand: Moderna's stock had previously soared by 1,700% from the start of 2020 through July of 2021, largely due to its COVID-19 vaccine. However, demand for the vaccine has seen a decline, which has impacted the stock's performance.
Beyond the COVID-19 Vaccine: Moderna, once a relatively unknown biotech company, became a household name with its COVID-19 vaccine. At its peak, the company saw quarterly revenues of $7 billion. Despite the vaccine being its only product currently, the company's stock reached an all-time high of $484 in mid-2021.
Vaccine Availability in Europe: European countries are actively negotiating a new COVID-19 vaccine procurement agreement with Moderna. This comes amid concerns of a surge in coronavirus infections in Europe.
These developments could have significant implications for Moderna's stock price, as they directly impact the company's revenue streams and market perception.
Predictive Performance of AI and Alternative Data
How did FinBrain's AI algorithms perform in predicting MRNA stock price?
Between September 18 and September 29, 2023, FinBrain's 10-day ahead predictions for MRNA were posted on FinBrain Terminal's MRNA forecasts page before the market opened on September 18.
The predictions showcased a Normalized Mean Squared Error (NMSE) of 0.604, indicating a remarkable forecast accuracy. The real price of MRNA almost perfectly followed FinBrain's predictions.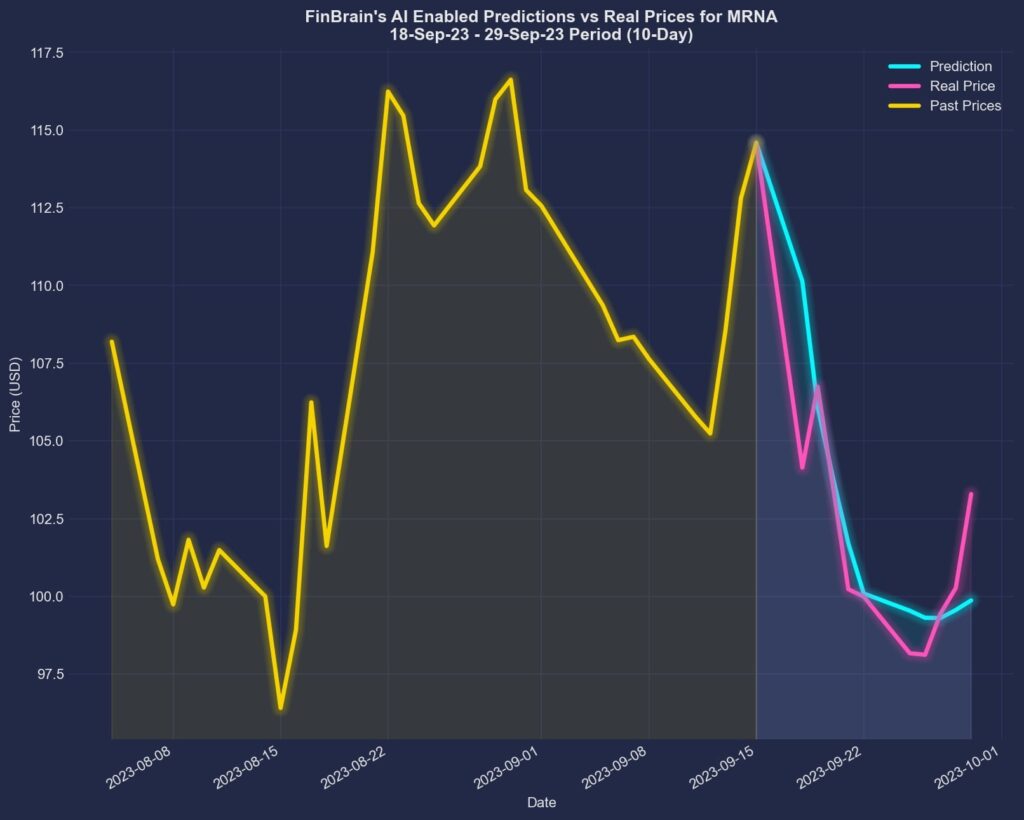 To provide a clearer picture:
MRNA stock's last close price on September 15, 2023, before the forecasts were published, was $114.59.
FinBrain's MRNA price forecast for the end of the given period was $99.87, indicating a -12.85% change. In reality, MRNA's real close price on that day was $103.29, marking a -9.86% change.
Can FinBrain's news sentiment data be used as a leading indicator?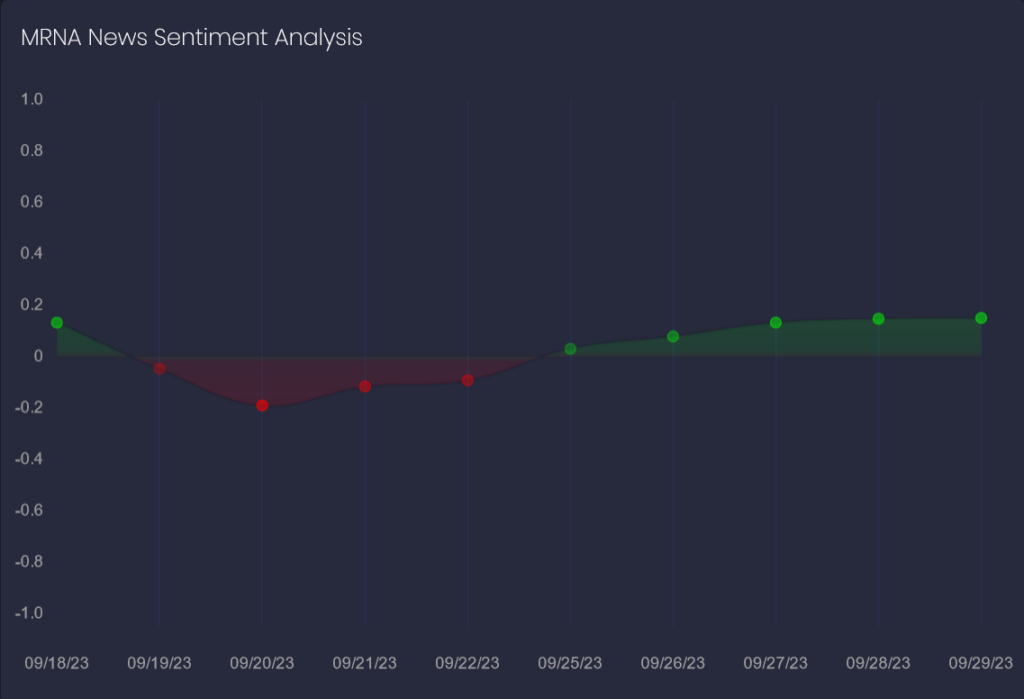 Furthermore, FinBrain's news sentiment score for MRNA was in decline at the beginning of the given period. It remained negative until September 25, 2023. However, the news sentiment on FinBrain Terminal turned positive and continued to rise, which was followed by an increase in the stock price. This showcases the strong leading indicator capability of FinBrain's news sentiment analysis data.
Did insider transactions send any bearish signals about MRNA beforehand?
Recent insider transactions for Moderna Inc. (MRNA) reveal a notable trend of sales by key company figures.

Notably, Director Noubar Afeyan executed three significant sales transactions within September 2023, offloading a total of 40,000 shares. Additionally, President Stephen Hoge and Chief Legal Officer Shannon Thyme Klinger also sold shares during the same month.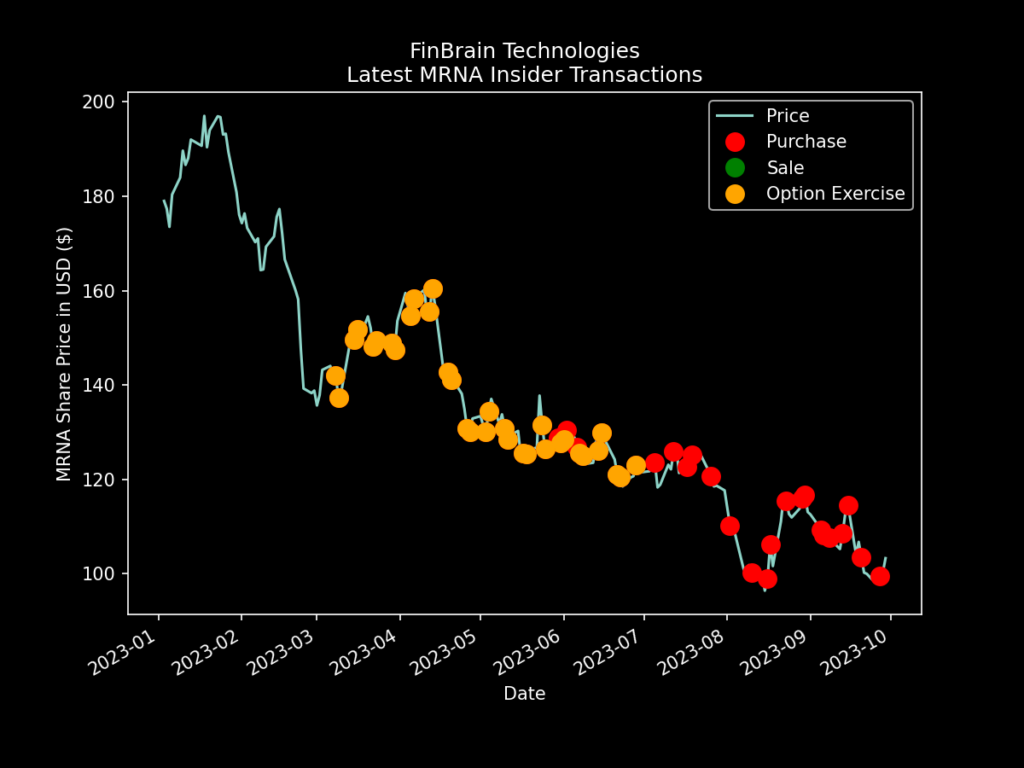 The timing of these sales coincides with a decline in MRNA's stock price, as evidenced by the decreasing transaction costs from $112.99 to $98.96 within the month.
Such a pattern of insider selling can often be perceived by the market as a lack of confidence in the company's near-term prospects, potentially contributing to downward pressure on the stock price.
Investors often monitor insider transactions closely, as they can provide insights into the internal sentiment about the company's future performance.
About FinBrain Technologies
FinBrain Technologies is at the forefront of AI stock forecasts and alternative financial data. Our services, accessible via the FinBrain Terminal and FinBrain API, span a wide range, including AI-generated future price predictions, company daily technical outlook reports, news & sentiment analysis data, and much more.
With customers from over 60 countries, we leverage the power of AI-assisted and data-driven investing to help individual investors maximize their returns.
For a deeper dive into our successful AI stock forecasts, explore our articles on AFRM, XOM, IBM, and ARKW, among others.
For insights into our alternative datasets, check out our posts on LCID and CRSP.
Interested in learning more? Visit and register at FinBrain's website.
FinBrain Technologies
www.finbrain.tech
[email protected]
99 Wall St. #2023 New York, NY 10005
Twitter • LinkedIn • Instagram • Facebook