Introduction
As we navigate the ever-evolving landscape of the stock market, it's crucial to stay informed about the companies we invest in. One such company that has been making waves in the electric vehicle sector is Lucid Group Inc., ticker symbol LCID. In this article, we will delve into the LCID stock forecast, providing an overview of the company, recent news, and how AI predictions and alternative data can influence the stock's performance.
About Lucid Group Inc.
Lucid Group Inc., a technology and automotive company, was founded in 2007 and has since been making strides in the electric vehicle (EV) technologies business. The company designs, engineers, and builds electric vehicles, contributing to the growing demand for sustainable transportation solutions. With over 7,200 employees as of 2022, Lucid Group is headquartered in Newark, California, United States.
As of July 6, 2023, Lucid Group's market cap stands at $14.84 billion, reflecting the company's substantial growth and investor confidence. The company's stock closed at $7.41 on July 5, 2023. However, it's important to note that the company's P/E ratio is currently not available, and it does not offer a dividend yield. Over the year, the stock has experienced a 52-week high of $21.78 and a low of $5.46.
Recent News and Its Impact
In recent news, Lucid Group has been making significant strides in the electric vehicle (EV) market. One of the most notable developments is the company's collaboration with Aston Martin to develop electric vehicles, which led to a substantial increase in the company's stock price. This partnership not only expands Lucid's reach in the EV market but also strengthens its position as a leading innovator in the industry.
Moreover, the Public Investment Fund (PIF) of Saudi Arabia has increased its stake in Lucid Group to over 60%. This investment not only provides Lucid with substantial financial backing but also signals strong confidence in the company's future prospects. The news of this investment led to a significant gain in LCID's stock price.
AI Predictions and Alternative Data
When it comes to predicting stock performance, AI and alternative data play a significant role. For instance, FinBrain's 10-day ahead predictions for LCID between June 21, 2023, and July 5, 2023, posted on FinBrain Terminal's LCID forecasts page, showed a remarkable forecast accuracy. The Normalized Mean Squared Error (NMSE) was 0.557, indicating that the real price almost perfectly followed FinBrain's predictions.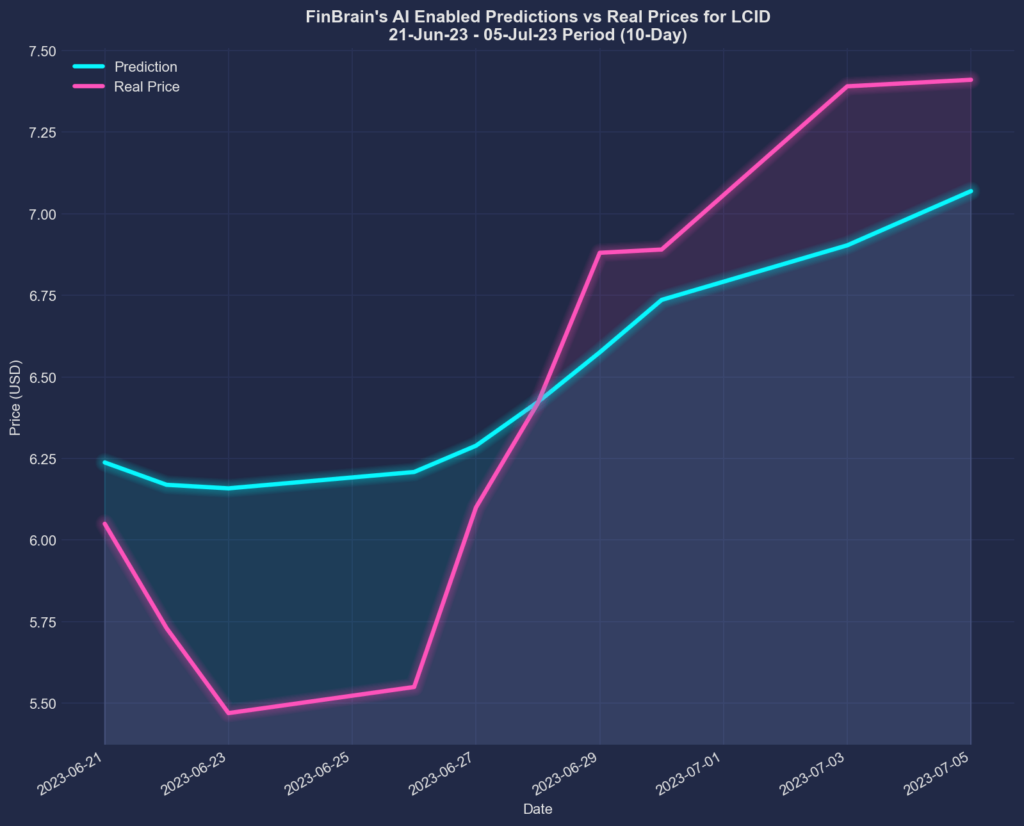 On June 20, 2023, before the forecasts were published, LCID's stock last closed at $6.32. FinBrain's LCID price forecast for the end of the given period was $7.07, indicating an 11.85% change. However, the real close price on that day was $7.41, a 17.25% change. This shows that FinBrain's AI algorithms were able to predict the real price movement very closely.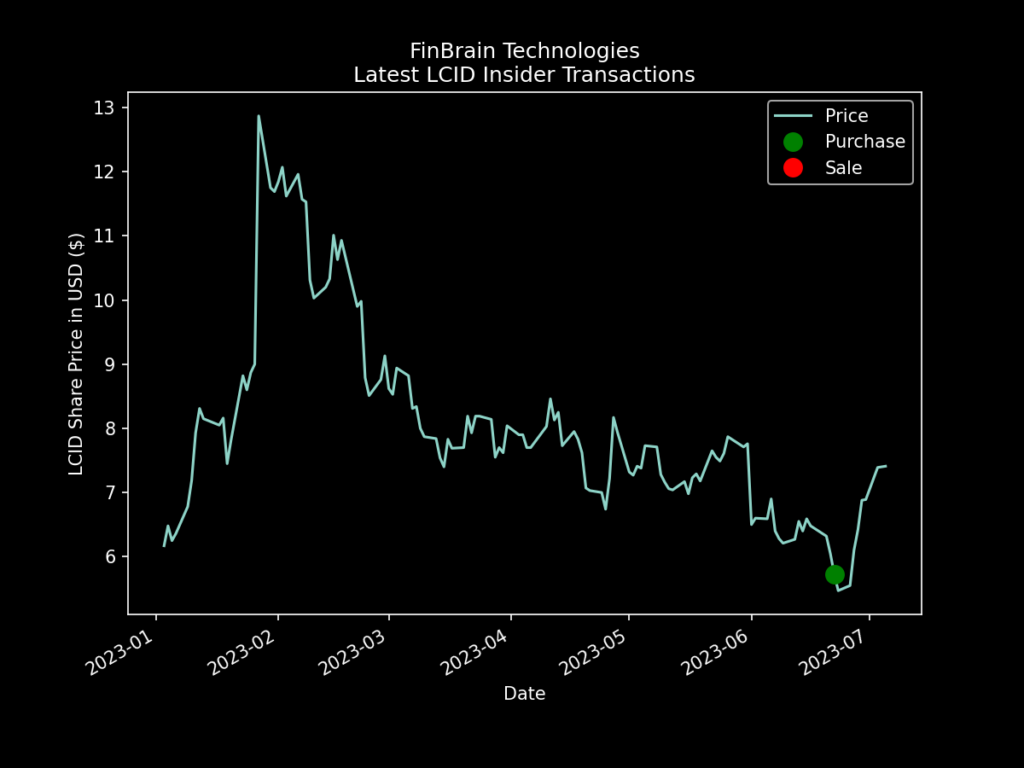 Alternative data about the stock on FinBrain Terminal also provides valuable insights. For instance, FinBrain's news sentiment score remained in the positive territory for the whole period, signaling a price increase. Additionally, LCID insider "Public Investment Fund" purchased $1.8 billion worth of stock at $6.83, timing the bottom in the stock perfectly and sending a strong bullish signal.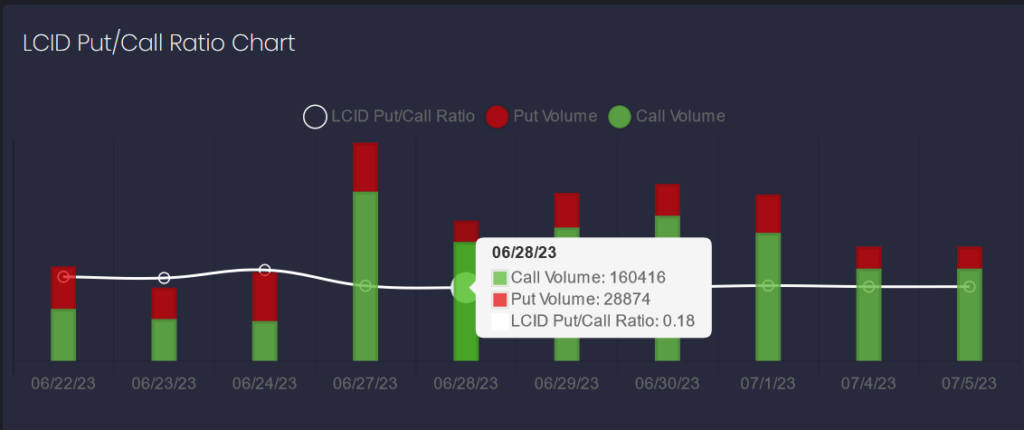 The LCID options put-call ratio also remained below 1 for the given period, indicating that call options were traded more than put options, favoring the bullish side on the stock.
About FinBrain Technologies
FinBrain Technologies is a leading provider of AI stock forecasts and Alternative Financial Data. Our company leverages the power of AI-assisted and data-driven investing to help individual investors maximize their investment returns. We provide traders and investors from all around the world with AI stock predictions and alternative datasets for thousands of US & World Stocks, ETFs, Index & Commodity Futures on a daily basis.
Our services include AI Generated Future Price Predictions, Company Daily Technical Outlook Reports, News & Sentiment Analysis Data, US House & Senate Trades, Company Insider Transactions, Options Put-Call Ratios, and Mobile App Scores. These services are available on FinBrain Terminal and through FinBrain API.
To learn more about our services and how we can help you maximize your investment returns, visit FinBrain's website and register today.
Conclusion
The LCID stock forecast is influenced by a variety of factors, including company performance, recent news, and AI predictions. By leveraging AI and alternative data, investors can gain a more comprehensive understanding of the stock's potential performance. As always, it's crucial to conduct thorough research and consider various data points before making investment decisions.
For more examples of successful AI stock forecasts, visit our blog. For more information on alternative datasets, check out our alternative data blog posts.
FinBrain Technologies
Twitter • LinkedIn • Instagram • Facebook
99 Wall St. Suite #2023, New York, NY 10005