Introduction
In the ever-evolving world of technology, staying ahead of the curve is crucial. Companies that can anticipate changes, adapt quickly, and deliver innovative solutions are the ones that thrive. One such company that has consistently proven its mettle in this regard is IBM, or International Business Machines Corporation.
In this article, we delve into the intricate world of IBM, exploring its history, recent developments, and future prospects. We also take a closer look at the IBM stock forecast, leveraging the power of artificial intelligence (AI) to predict future price movements.
Whether you're an investor looking for insights into IBM's stock performance, a tech enthusiast curious about the company's latest innovations, or simply someone interested in the intersection of technology and finance, this article has something for you. So, let's dive in and explore the fascinating world of IBM.
A closer look at IBM stock
IBM, or International Business Machines Corporation, is a multinational technology company that has been a cornerstone of the tech industry for over a century. With a rich history dating back to its foundation in 1911, IBM has consistently been at the forefront of technological innovation.
IBM operates in the technology sector, providing a wide array of products and services. These include hardware, software, cloud-based services, and cognitive computing. IBM is known for its innovation and has been a leading player in areas such as artificial intelligence with IBM Watson, quantum computing, blockchain, and cybersecurity.
As of June 2023, IBM employs approximately 345,900 people worldwide. The company's market capitalization stands at $113.9 billion, and its stock is currently priced at $134.40. IBM's year-to-date (YTD) stock performance was in a slight decline, with a 5.04% decrease in stock price. The company's price-to-earnings (P/E) ratio is 20.17, indicating a relatively high level of investor confidence.
IBM is also known for its consistent dividend payments. The company's board of directors recently approved an increase in the regular quarterly cash dividend to $1.66 per common share, marking the 28th consecutive year of dividend increases. This corresponds to a dividend yield of 4.94%, making IBM an attractive option for income-focused investors.
Recent News and Its Impact
IBM has been making significant strides in recent months, with developments that could potentially reshape its future and, by extension, its stock price. Let's delve deeper into these developments and their potential implications.
Acquisition of Polar Security
IBM recently announced the acquisition of Polar Security, a company that specializes in helping businesses discover, continuously monitor, and secure cloud and software. This acquisition is a strategic move by IBM to bolster its capabilities in the cybersecurity space, a sector that is seeing increasing demand.
As businesses increasingly move their operations to the cloud, the need for robust cybersecurity measures has never been greater. By acquiring Polar Security, IBM is positioning itself as a leader in this space, which could potentially lead to increased revenue and, consequently, a boost in its stock price.
Dividend Increase
The company's board of directors approved an increase in the regular quarterly cash dividend for the 28th consecutive year, reinforcing IBM's commitment to returning value to its shareholders. This move is likely to make IBM's stock more attractive to income-focused investors, potentially leading to increased demand for the stock and a subsequent rise in its price.
Release of Impact Report
IBM also recently released its Impact Report for 2022, providing insights into the company's performance and strategic direction. This move demonstrates IBM's commitment to transparency, which could boost investor confidence in the company and its leadership. Increased investor confidence often translates into increased demand for a company's stock, which could lead to a rise in IBM's stock price.
Building its First European Quantum Data Center
IBM has announced plans to build its first European Quantum Data Center. This move is a testament to IBM's commitment to being at the forefront of technological innovation, particularly in the field of quantum computing. As quantum computing continues to gain traction, IBM's early investment in this technology could potentially pay off in the form of increased revenue and a boost in its stock price.
These developments, when viewed collectively, paint a picture of a company that is committed to innovation, shareholder value, and corporate transparency. Each of these factors could potentially have a positive impact on IBM's stock price, making it a company to watch in the coming months.
FinBrain's IBM Stock Forecast
In the world of stock market investing, accurate forecasting is the holy grail. It's the key to making informed decisions and, ultimately, to achieving profitable returns. This is where FinBrain Technologies comes in. As a leading provider of AI stock forecasts, FinBrain has a proven track record of delivering remarkably accurate predictions, as evidenced by its recent IBM stock forecast.
IBM Stock Forecast Performance
On May 23, 2023, before the market opened, FinBrain posted a 10-day ahead prediction for IBM on its IBM forecasts page. The forecast predicted a 4.25% change in IBM's stock price. This prediction was not made lightly. It was the result of analyzing massive amounts of price, technical, and alternative data using deep neural networks, a sophisticated form of artificial intelligence.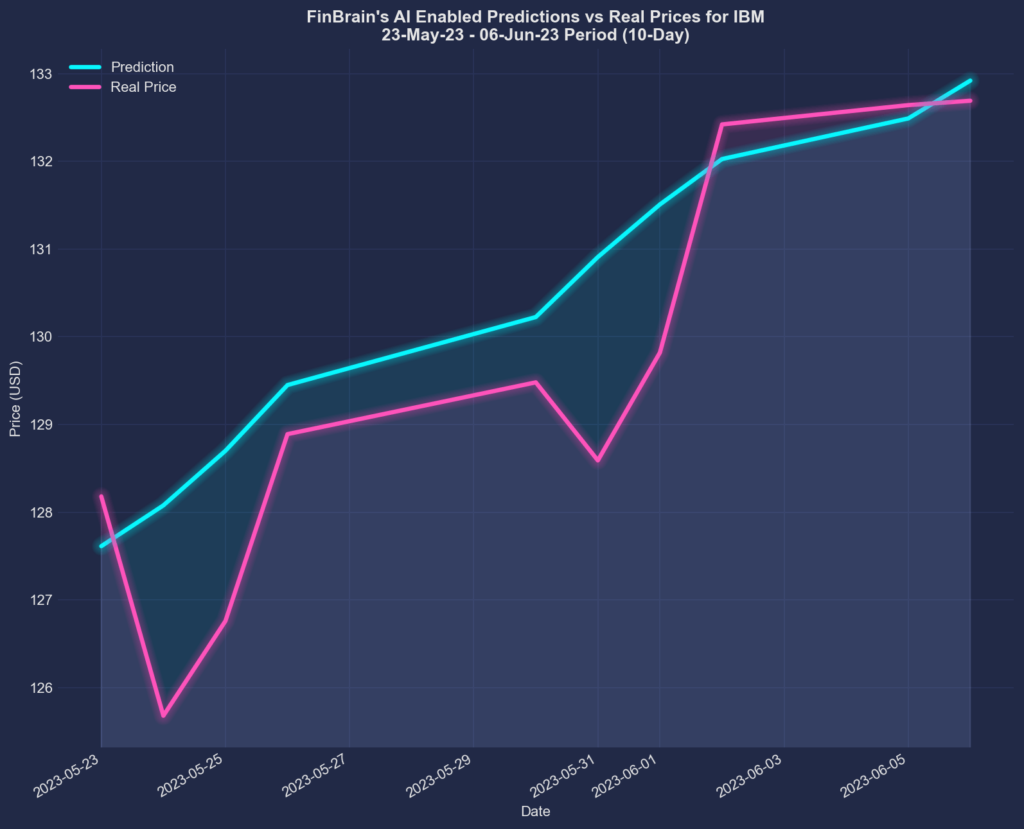 The actual price change over the 10-day period was 4.07%. This means that FinBrain's prediction was off by just 0.18 percentage points, a negligible difference in the world of stock market investing. This level of accuracy is truly remarkable and attests to the power of FinBrain's AI algorithms.
To quantify the accuracy of its forecast, FinBrain calculated the Normalized Mean Squared Error (NMSE), a common metric used in forecasting to measure the difference between the predicted and actual values. The NMSE for this forecast was 0.502. In layman's terms, this means that the real price almost perfectly followed FinBrain's predictions, indicating a high level of accuracy.
News Sentiment Scores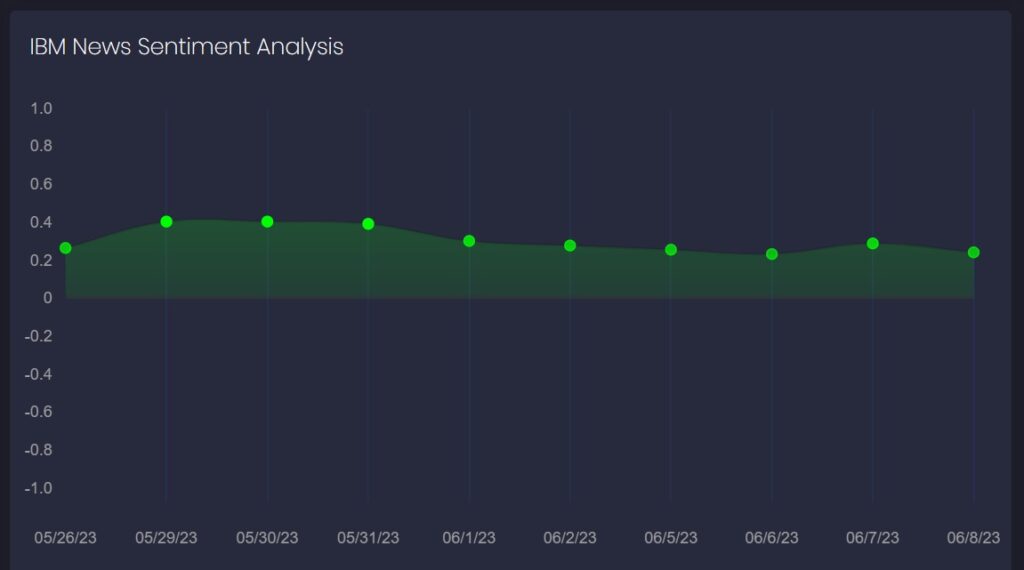 In addition to its price forecast, FinBrain also provided a news sentiment score for IBM. This score was positive throughout the 10-day period, suggesting bullish signals for the stock. This means that the overall tone of the news about IBM was more positive than negative, which can often be a precursor to a rise in stock price.
Options Put-Call Ratios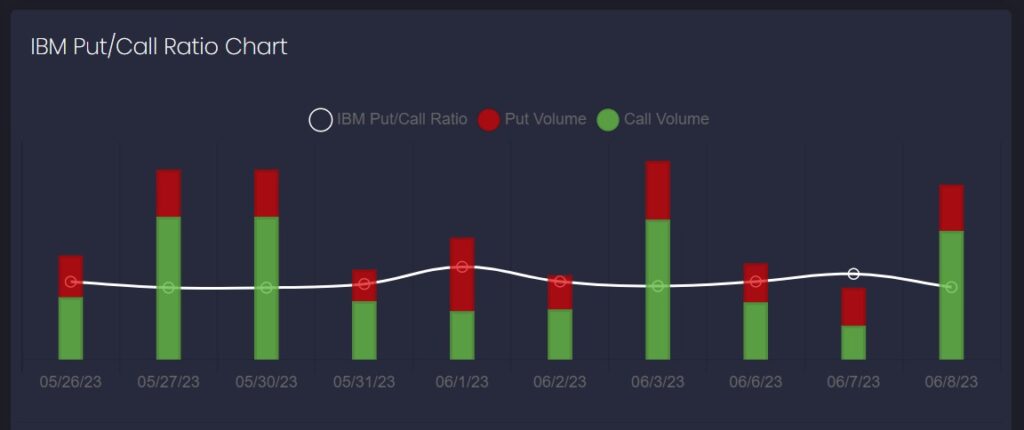 FinBrain also analyzed the options put-call ratio for IBM. This ratio was below 1 for the 10-day period, indicating bullish sentiment. In other words, there were more call options (which are typically bought when investors expect the price to rise) than put options (which are typically bought when investors expect the price to fall).
The Implications
What does all this mean for investors? Simply put, it means that FinBrain's AI algorithms were able to predict the real price movement of IBM's stock very closely. This level of accuracy can give investors a significant edge, helping them make more informed decisions and potentially achieve higher returns.
About FinBrain Technologies
FinBrain Technologies provides AI stock forecasts and Alternative Financial Data such as News Sentiment Analysis, Mobile App Score Ratings, US Congress Members' trades, Option Put-Call ratios, company insider transactions, and much more. Our company leverages the power of AI-assisted and data-driven investing that can help individual investors in maximizing their investment returns. FinBrain provides traders and investors from all around the world with AI stock predictions and alternative datasets for thousands of US&World Stocks, ETFs, Index&Commodity Futures on a daily basis.
Here are the services we provide on FinBrain Terminal and through FinBrain API to our customers:
AI Generated Future Price Predictions: Massive amounts of price, technical and alternative data collected and analyzed by deep neural networks on a daily basis.
Company Daily Technical Outlook Reports: Company technical status, top holders, earnings and revenue estimates, analyst recommendations and sentiment scores.
News & Sentiment Analysis Data: Sentiment data based on the news collected from 20+ major financial news sources, analyzed and scored by AI/NLP algorithms.
US House & Senate Trades: Trades taken by US Representatives and Senators, stock buys/sells and corresponding amounts. As the US congress members have some information before the markets and tracking their trades can yield decent returns.
Company Insider Transactions: Trades taken by the company insiders, transaction types, number of shares and dollar amounts.
Options Put-Call Ratios: Latest traded put-call option contract volumes and ratios for bullish/bearish signals.
Mobile App Scores: A glimpse of how happy a company's app users are, and a leading indicator to forecast the performance of a company.
FinBrain's AI algorithms have demonstrated remarkable accuracy in predicting stock price movements, as evidenced by the recent IBM stock forecast. Other successful examples of AI stock forecasts include ARKW, PFE, JNJ, AMZN, and TSLA.
FinBrain's alternative datasets also provide valuable insights into stock price movements. For example, tracking company insider trades and US Congress members' trades can yield decent returns.
To learn more about FinBrain Technologies and how our AI-assisted and data-driven investing can help you maximize your investment returns, visit our website and register today. You can also check out our FinBrain Terminal for AI stock forecasts and alternative data, and our FinBrain API for institutional traders and data-driven funds. For those interested in algorithmic trading, we offer the FinBrain Algorithmic Trading bot that can trade 24/7 and benefit from the volatility in the crypto markets.
FinBrain Technologies
Twitter • LinkedIn • Instagram • Facebook
99 Wall St. Suite #2023, New York, NY 10005