Introduction
In the dynamic world of stock market, the ability to forecast stock prices is a lucrative but complex endeavor. Various tools and data have been used historically, yet the advent of Artificial Intelligence (AI) has revolutionized the prediction game, making it a bit less of a guessing game.
In this article, we delve into the predictive performance of AI algorithms and alternative datasets through a real-world case study concerning Nike Inc. (NKE), an iconic brand known globally.
We will unravel how AI, when coupled with alternative datasets, can provide insightful NKE stock forecast, aiding investors in their decision-making process.
A Glimpse into Nike Inc. (NKE)
Nike Inc., stylized as NIKE, was founded on January 25, 1964, and has since become a cornerstone in the realm of athletic footwear and apparel.
With its headquarters nestled near Beaverton, Oregon, Nike has grown to become the world's largest supplier of athletic shoes and apparel, boasting a revenue exceeding US$46 billion as of 2022​1​.
The enterprise extends its brand through three major labels: Nike, Converse, and Jordan, portraying a diversified yet focused approach towards catering to sports enthusiasts and casual consumers alike​2​.
Operating in the Consumer Cyclical sector under the Footwear & Accessories industry, Nike Inc. has a substantial workforce of 83,700 full-time employees as of the data available​3​.
The brand has meticulously crafted a diverse range of products, encompassing not only athletic and casual footwear but also apparel, equipment, and accessories aimed at men, women, and children alike​4​.
Unveiling AI Predictions and Alternative Data
The period between 2023-10-11 to 2023-10-24 saw FinBrain's AI algorithms generating a 10-day ahead prediction for NKE stock. These predictions were meticulously crafted and posted on FinBrain Terminal's NKE forecasts page before the market opened on 2023-10-11.
The predictive performance is measured using Normalized Mean Squared Error (NMSE), and a score of 0.658 was achieved, indicating a remarkable forecast accuracy.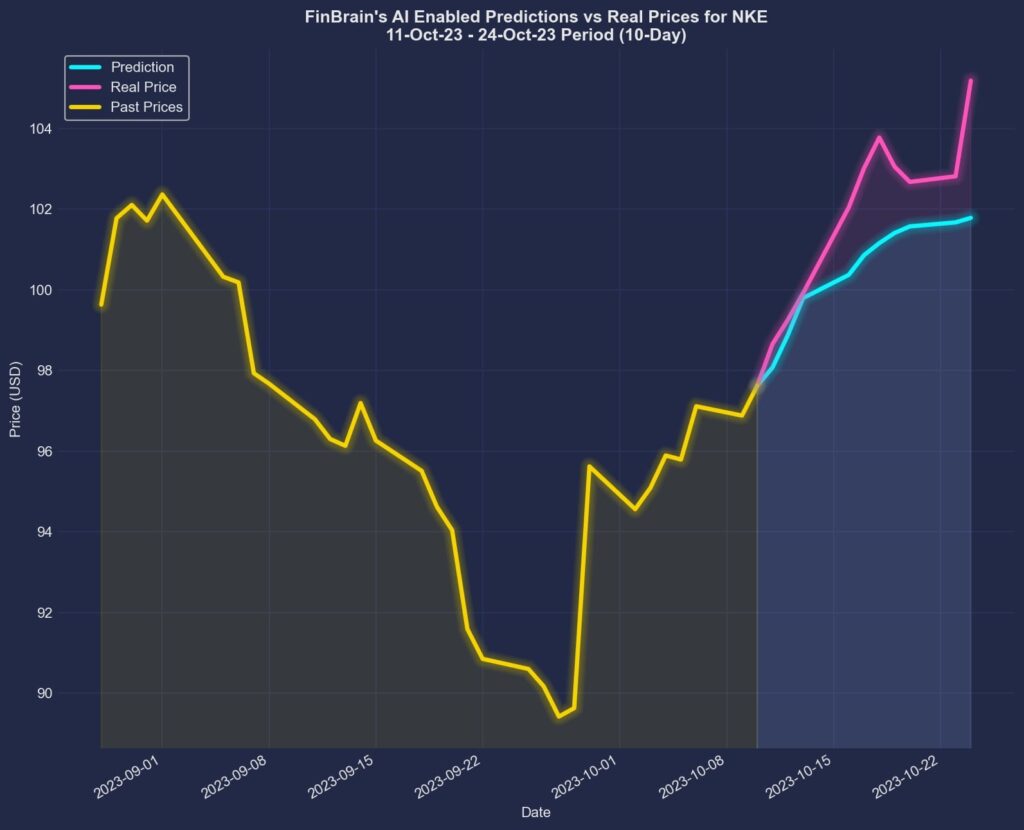 On 2023-10-10, before the predictions were published, NKE stock closed at $97.62. FinBrain's forecast for the stock price at the end of this period was $101.78, reflecting a 4.26% increase.
However, the real close price on the last day was $105.18, translating to a 7.74% increase. This slight discrepancy between the predicted and real price change showcases the inherent uncertainty in stock price forecasting, yet the proximity of the predicted price to the real price underscores the effectiveness of AI in stock price prediction.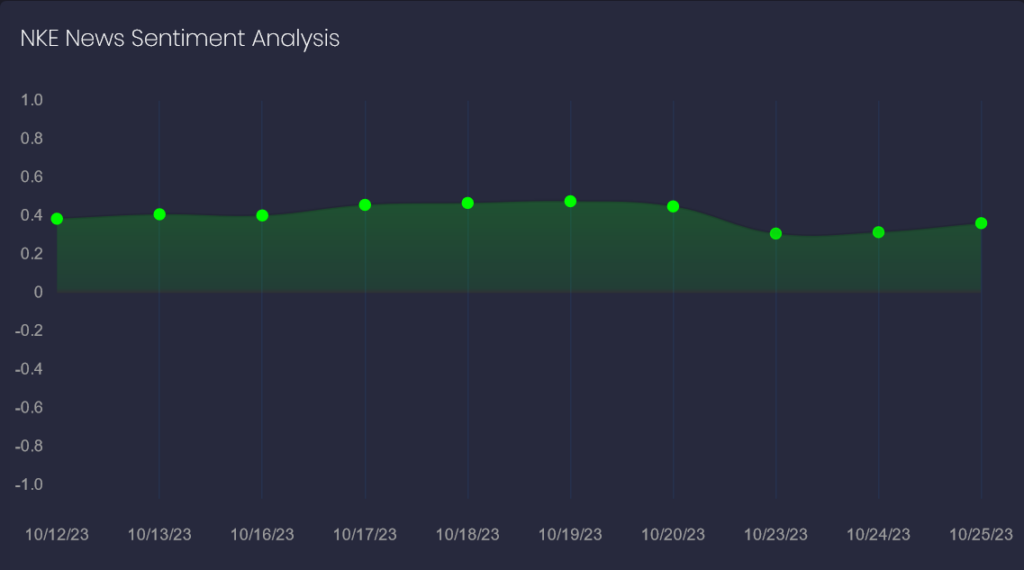 In addition to price predictions, alternative data was also utilized to gauge the sentiment around NKE stock. FinBrain's news sentiment score for NKE remained in the positive territory throughout the mentioned period, indicating a positive news outlook for Nike Inc.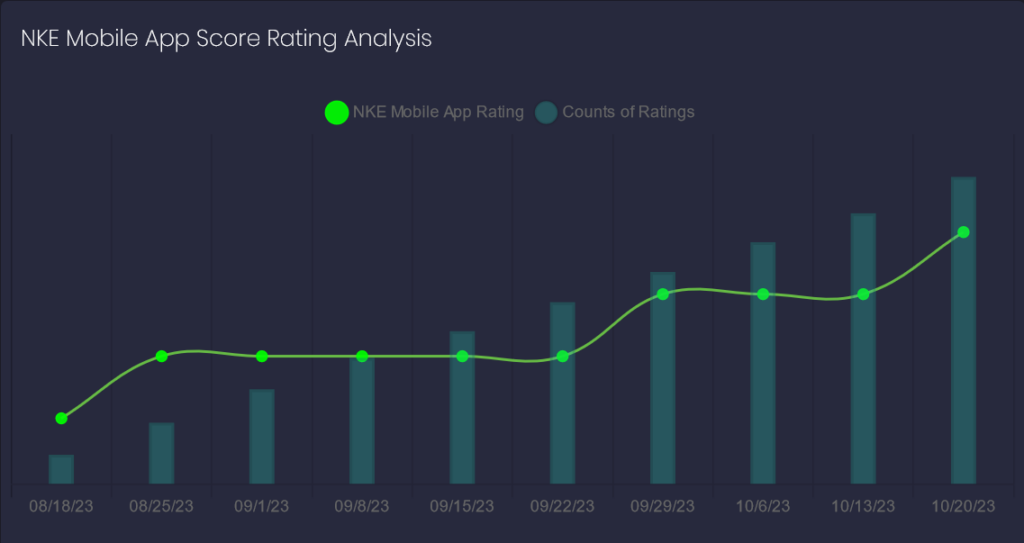 Moreover, mobile app scores for Nike's app saw an uptick in the past week after a steady 3-week period, standing at a robust 4.6/5 rating. This score not only reflects user satisfaction but also hints at a positive brand perception, which can indirectly influence the stock price.
FinBrain: Your Companion in Intelligent Investing
FinBrain Technologies, the harbinger of AI stock forecasts and Alternative Financial Data, is at the forefront of transforming investment strategies.
Through FinBrain Terminal and FinBrain API, we offer a plethora of services including AI-generated future price predictions, company daily technical outlook reports, news & sentiment analysis data, US House & Senate Trades data, Company Insider Transactions data, and much more.
Our offerings extend to a vast array of assets across diverse markets, enabling traders and investors around the globe to make informed decisions.
Our success stories echo through our previous forecasts and the accuracy achieved in predicting stock prices. The blend of AI and alternative data provides a nuanced understanding of market dynamics, acting as a catalyst in maximizing investment returns.
At FinBrain, we have a clientele that spans more than 70 countries, reflecting our global footprint and the trust bestowed upon our AI forecasting tools and non-public alternative financial datasets.
Our aim is to democratize access to institutional-grade AI forecasting tools, bridging the gap between individual investors and the informational edge required in today's competitive financial markets.
Some of the services we meticulously provide include:
AI Generated Future Price Predictions: Harnessing the power of deep neural networks to analyze massive amounts of price, technical, and alternative data daily, we model future price movements of over 10,000 assets.
Company Daily Technical Outlook Reports: Providing a comprehensive technical status of companies, top holders information, earnings and revenue estimates, analyst recommendations, and sentiment scores.
News & Sentiment Analysis Data: With AI/NLP algorithms, we analyze news from 20+ major financial sources, offering investors a glimpse into the market's sentiment regarding a specific stock.
US House & Senate Trades: Tracking the trades of US Representatives and Senators to provide a unique perspective, as their trading activities can sometimes precede market movements.
Company Insider Transactions: Monitoring the trades taken by company insiders to gauge their confidence in the stock's future.
Options Put-Call Ratios: Analyzing the latest traded put-call option contract volumes and ratios for deciphering bullish/bearish signals.
Mobile App Scores: Evaluating user satisfaction and potential indicators of future revenue growth through mobile app ratings.
Diverse Markets: Offering forecasts and alternative data for a myriad of assets listed under US & World Stocks, ETFs, Index & Commodity Futures, and Foreign & Crypto currency markets.
Our alternative datasets have proven to be a treasure trove of insights in various case studies, like how insiders timed the market, and spotting early signals of stock price surge, among others. These datasets, when combined with our AI-driven forecasts, create a comprehensive picture helping investors in making informed decisions.
In a nutshell, the case of Nike Inc. illuminates how AI and alternative data are not merely buzzwords, but powerful tools in the hands of investors. The NKE stock forecast provided by FinBrain is a testament to how AI can be leveraged for better investment strategies. Our services are tailored to meet the needs of modern-day investors, providing a panoramic view of the market dynamics.
Visit FinBrain's website to explore our offerings and register to step into a world where AI meets investment, and where data drives decisions.
FinBrain Technologies
www.finbrain.tech
[email protected]
99 Wall St. #2023 New York, NY 10005
Twitter • LinkedIn • Instagram • Facebook