Introduction
In the ever-evolving world of finance, investors are constantly seeking innovative ways to gain an edge in the market. One such method that has gained significant traction in recent years is the use of AI algorithms and alternative datasets to predict stock performance. In this article, we will delve into a real-world case study of Affirm Holdings Inc. (ticker: AFRM) and demonstrate the predictive prowess of these modern tools.
About Affirm Holdings Inc. (AFRM)
Company Overview
Founded in 2012, Affirm Holdings Inc. is a technology-driven company that operates a platform for digital and mobile-first commerce. Headquartered in San Francisco, California, the company's primary sector is Technology, specifically within the Software—Infrastructure industry. Affirm's platform offers a point-of-sale payment solution for consumers, merchant commerce solutions, and a consumer-focused app. The company's agreements with originating banks and capital markets partners enable consumers to pay for purchases over extended periods, with terms that can span up to 60 months.
Key Financials and Performance
As of September 15, 2023, AFRM's stock closed at a price of $24.37. The company boasts a market capitalization of $7.294 billion. Unfortunately, the company does not offer dividends, so there's no dividend yield to report. The stock has experienced a remarkable Year-To-Date (YTD) performance, with a growth of 167.80%.
Latest News on AFRM
Recent headlines indicate a positive trajectory for Affirm Holdings Inc.:
Affirm & Booking.com Collaboration: Affirm recently teamed up with Booking.com to enhance payment options. This partnership is timely, given the rising demand for flexible payment solutions in the travel booking sector.
Affirm & ATERNAL Partnership: Affirm has also collaborated with ATERNAL to provide "buy now, pay later" solutions for art buyers, aiming to boost art gallery sales.
Affirm's CEO on Travel and AI: Max Levchin, Affirm's CEO, highlighted that travel remains a robust segment for the company. He also discussed the potential of AI, viewing it as a plethora of opportunities while also acknowledging concerns about its impact on jobs.
These developments suggest that Affirm is actively expanding its partnerships and exploring new avenues for growth. Such strategic moves can positively influence the company's stock price, making it an attractive option for potential investors.
AI Predictions and Alternative Data on AFRM's Stock
FinBrain's AI Stock Forecasts for AFRM
FinBrain's AI algorithms have been instrumental in predicting stock movements with remarkable accuracy. For instance, between September 1 and September 15, 2023, FinBrain's 10-day ahead predictions for AFRM were posted on the AFRM forecasts page before the market opened on September 1.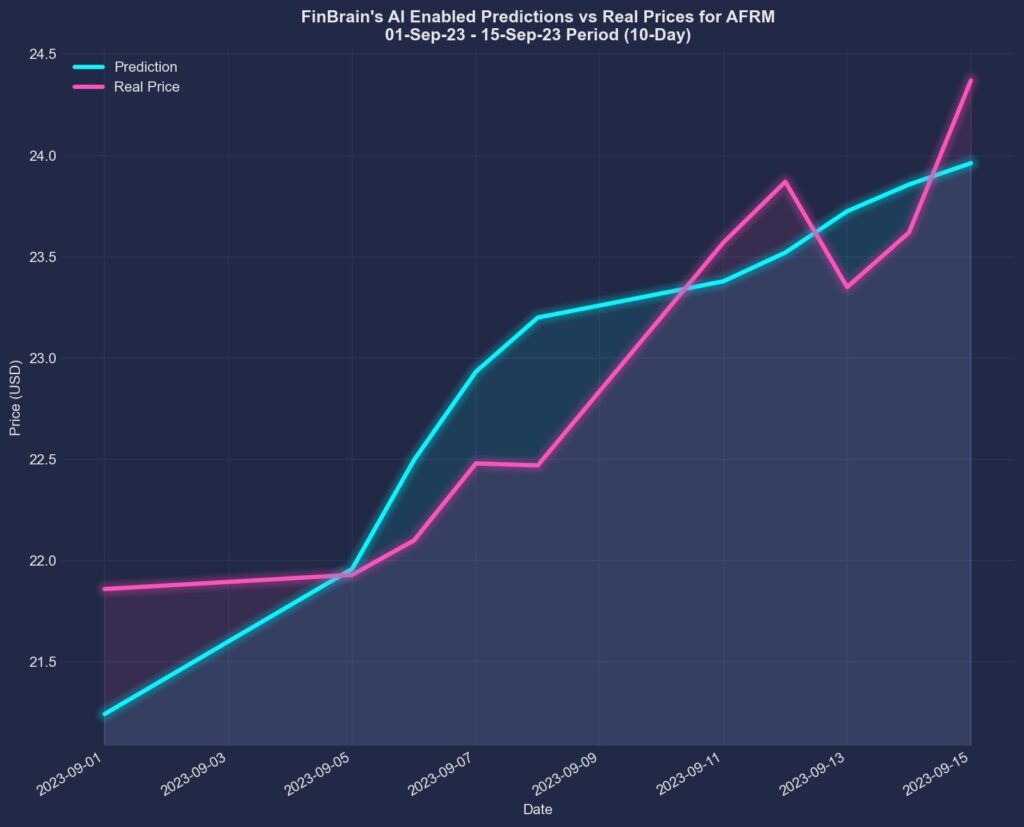 The predictions yielded a Normalized Mean Squared Error (NMSE) of 0.477, indicating high forecast accuracy. On August 31, 2023, AFRM's stock closed at $20.81. By the end of the forecasted period, FinBrain predicted a price of $23.96, a 15.14% increase. The actual closing price on that day was $24.37, marking a 17.11% rise. This close alignment between the predicted and actual prices underscores the efficacy of FinBrain's AI algorithms.
News Sentiment Data for AFRM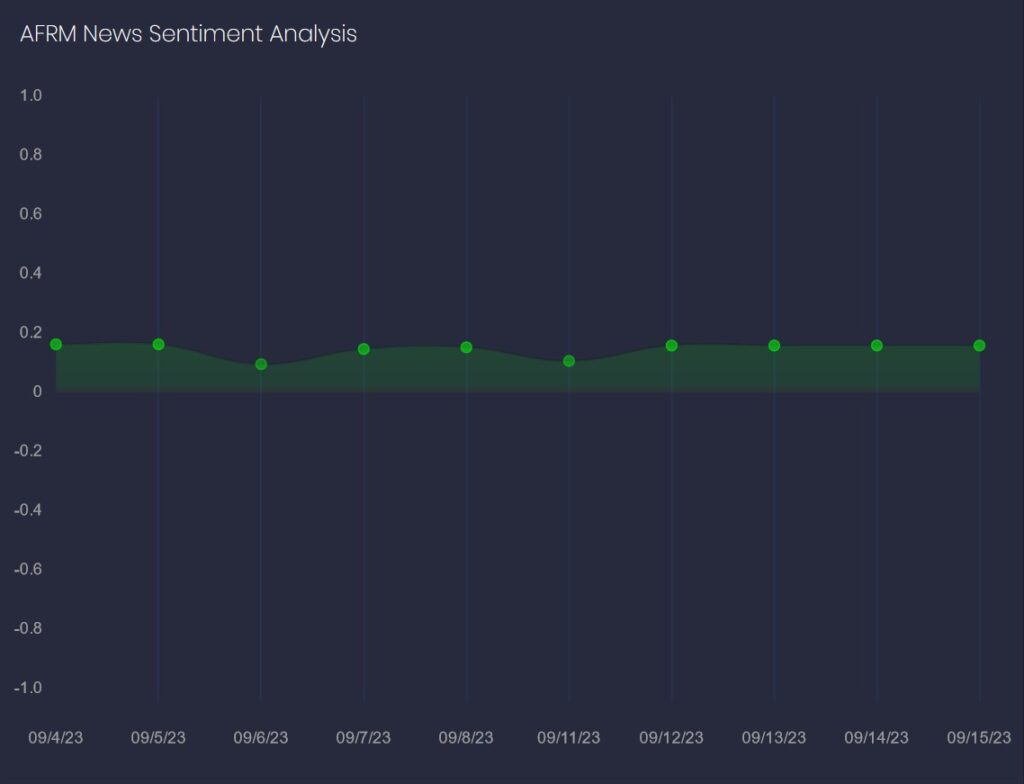 Furthermore, alternative data from FinBrain Terminal revealed that the news sentiment score for AFRM remained positive throughout this period, signaling bullish tendencies.
AFRM Company Insider Transactions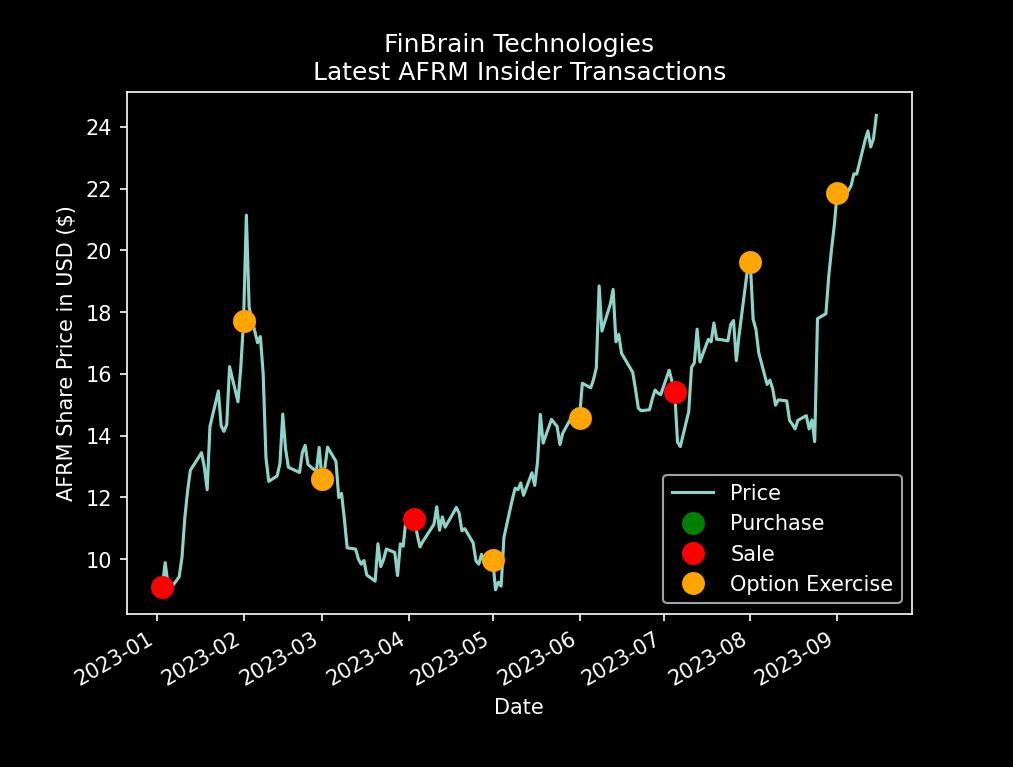 Insider transactions for AFRM were primarily option exercises, with no subsequent sales observed. This lack of sales post-option exercises suggests that company insiders are optimistic about AFRM's future stock price.
When used in combination, AI stock forecasts, news sentiment scores, and company insider transactions provide a comprehensive view of a stock's potential trajectory. This synergy of data-driven insights can yield highly reliable results about the stock's future price, offering investors a more holistic approach to their investment strategies.
About FinBrain Technologies
FinBrain Technologies is at the forefront of AI stock forecasts and alternative financial data. Our offerings encompass News Sentiment Analysis, Mobile App Score Ratings, US Congress Members' trades, Option Put-Call ratios, company insider transactions, and much more. By harnessing the power of AI-assisted and data-driven investing, we empower individual investors to maximize their returns. Our services cater to traders and investors globally, providing daily AI stock predictions and alternative datasets for a plethora of US & World Stocks, ETFs, Index & Commodity Futures.
Our Services
AI Generated Future Price Predictions: Deep neural networks analyze vast amounts of price, technical, and alternative data daily. Learn more.
Company Daily Technical Outlook Reports: Get insights into company technical status, top holders, earnings and revenue estimates, analyst recommendations, and sentiment scores.
News & Sentiment Analysis Data: AI/NLP algorithms score sentiment data based on news from over 20 major financial sources. Explore here.
US House & Senate Trades: Track trades by US Representatives and Senators for potential high returns. See examples.
Company Insider Transactions: Monitor trades by company insiders, including transaction types, share numbers, and dollar amounts. Discover more.
Options Put-Call Ratios: Analyze the latest traded put-call option contract volumes and ratios for potential bullish/bearish signals.
Mobile App Scores: Gauge the satisfaction levels of a company's app users, a leading indicator for forecasting company performance.
For those interested in leveraging the vast amounts of data that FinBrain provides, check out the FinBrain API.
For a deeper dive into our successful AI stock forecasts, explore our articles on XOM, IBM, ARKW, and AMZN.
To learn more and register, visit FinBrain's website.
FinBrain Technologies
www.finbrain.tech
[email protected]
99 Wall St. #2023 New York, NY 10005
Twitter • LinkedIn • Instagram • Facebook