Introduction
At FinBrain Technologies, we are committed to providing AI-driven stock forecasts and alternative financial data to traders and investors all around the world. Our services span thousands of US & World Stocks, ETFs, Index & Commodity Futures, providing daily insights and predictions to help individuals maximize their investment returns.
In this post, we delve into the AI-driven forecast performance of Amazon Inc. (AMZN) by FinBrain Technologies. Leveraging state-of-the-art AI and a wealth of data, FinBrain provides insights that empower investors to make informed decisions.
Amazon.com, Inc.: A Multinational Technology Powerhouse
Amazon.com, Inc. is an American multinational technology company that has made significant strides in various sectors, including e-commerce, cloud computing, digital streaming, and artificial intelligence. Founded by Jeff Bezos on July 5, 1994, in Bellevue, Washington, Amazon initially started as an online marketplace for books. However, it has since expanded into a multitude of product categories, earning it the nickname "The Everything Store."
Amazon's vast array of products and services include the Echo, Fire Tablet, Fire TV, Fire OS, Kindle, Amazon Alexa, Amazon Appstore, Amazon Luna, Amazon Music, Amazon Pay, Amazon Prime, Amazon Prime Video, Twitch, Ring, and Amazon Web Services. The company's subsidiaries include Ring, Twitch, IMDb, and Whole Foods Market, among others.
As of 2023, Amazon is the world's largest online retailer and marketplace, smart speaker provider, cloud computing service through AWS, live-streaming service through Twitch, and Internet company as measured by revenue and market share. In 2021, it surpassed Walmart as the world's largest retailer outside of China, largely due to its paid subscription plan, Amazon Prime, which boasts over 200 million subscribers worldwide.
Amazon was founded on July 5, 1994, and as of March 31, 2023, the company employs approximately 1,465,000 full-time and part-time employees. The Year-to-Date (YTD) performance of Amazon (AMZN) stock as of May 18, 2023 is 34.58%.
Despite its success, Amazon has faced criticism for its customer data collection practices, a toxic work culture, tax avoidance, and anti-competitive behavior. However, it continues to be a dominant force in the global market, influencing economic and cultural trends worldwide.
Introduction to FinBrain's AI Stock Forecasts and Alternative Datasets
Our range of services, accessible via the FinBrain Terminal and through the FinBrain API, include:
AI Generated Future Price Predictions: Our deep neural networks analyze massive amounts of price, technical, and alternative data daily to provide accurate future price predictions. Our recent forecasts for TSLA, AMZN, and AAPL stand testament to the accuracy of our predictions.
Company Daily Technical Outlook Reports: We provide comprehensive reports that include the company's technical status, top holders, earnings and revenue estimates, analyst recommendations, and sentiment scores.
News & Sentiment Analysis Data: We analyze sentiment data from over 20 major financial news sources using AI/NLP algorithms to provide insightful news sentiment analysis.
US House & Senate Trades: We monitor and report on trades taken by US Representatives and Senators, offering valuable insights as these individuals often have access to information before the markets.
Company Insider Transactions: We provide detailed information on trades taken by company insiders, including transaction types, number of shares, and dollar amounts.
Options Put-Call Ratios: We offer the latest traded put-call option contract volumes and ratios for bullish/bearish signals.
Mobile App Scores: We provide a glimpse into how satisfied a company's app users are, which can serve as a leading indicator to forecast a company's performance.
Most Popular Tickers on Reddit: We continuously track what's trending on the Internet's largest retail trading community. Tracking the most popular stocks among retail traders can yield massive profit potential. For this, check out our Most Mentioned Tickers on WallStreetBets tracker.
For those looking to benefit from the volatility in the crypto markets, we also offer the FinBrain Algorithmic Trading bot that trades 24/7.
AMZN Stock Forecast Accuracy
On May 3rd, 2023, we posted 10-day ahead predictions for Amazon Inc. (AMZN) on FinBrain Terminal's AMZN stock forecasts page before the market opened. As an AI-driven analytics firm, FinBrain specializes in predicting future stock prices, and the results for this period were quite impressive.
The AMZN stock price on May 2nd, 2023, just before FinBrain's forecasts were published, stood at $103.63. FinBrain predicted a significant rise in the stock price for the period between May 3rd and May 16th, 2023, forecasting an end price of $118.41. This forecast represented a potential increase of 14.26%.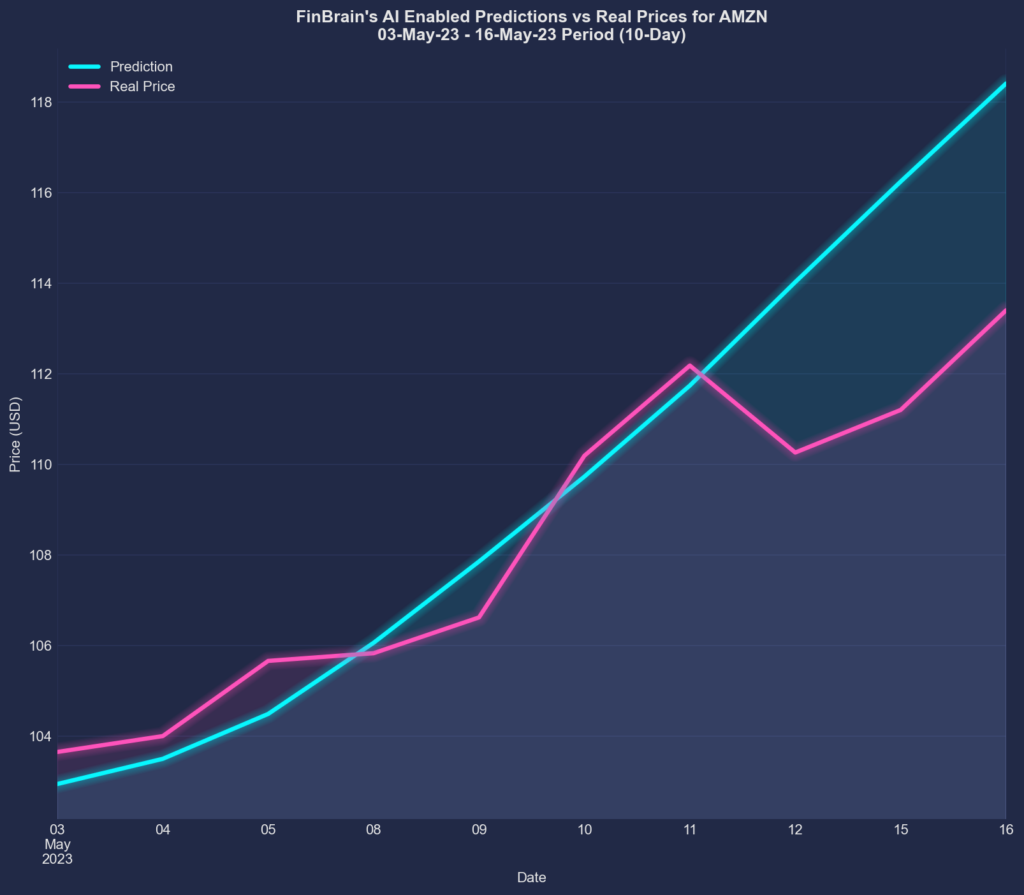 Fast forward to the end of the 10-day period, the real close price of AMZN on May 16th, 2023, was $113.40. This represents a real price change of 9.43% from the last close price before the forecasts were published.
While the real price change did not exactly match FinBrain's forecast, the direction of the change was correctly predicted. The actual price increase was somewhat less than FinBrain's prediction, but it was still a significant rise.
The accuracy of FinBrain's predictions can be assessed by the Normalized Mean Squared Error (NMSE), a common measure used in forecasting to compare the predicted and actual values. In this case, the NMSE for FinBrain's AMZN predictions was 0.590. This is a remarkable level of forecast accuracy, indicating that the real price nearly perfectly followed FinBrain's predictions.
Positive News Sentiment Scores for AMZN
During the given period, Amazon Inc. (AMZN) experienced a strong positive trend in news sentiment scores, according to data analyzed by FinBrain Technologies. This powerful surge in positive sentiment is noteworthy and carries significant implications for investors and traders alike.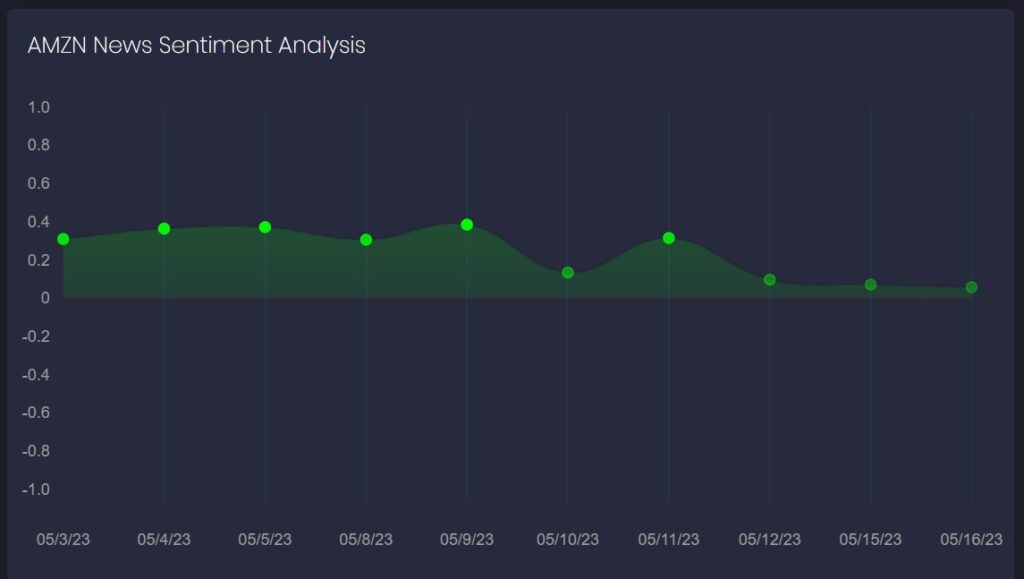 News sentiment analysis is a key tool in the arsenal of modern investors. It involves the use of AI and natural language processing (NLP) algorithms to analyze and score news content, providing a measure of the overall positive or negative sentiment expressed in news coverage about a particular stock.
A strong positive news sentiment score can often precede upward movements in a stock's price, as positive news can increase investor confidence and stimulate buying activity. As such, these positive scores for AMZN could potentially indicate a favorable environment for investment in the stock.
Bullish put-call ratio for AMZN
In the world of options trading, the put-call ratio serves as an important indicator of market sentiment. During the given period, Amazon Inc.'s (AMZN) options put-call ratio fell below 1, according to data from FinBrain Technologies. This is a significant development, typically indicating bullish expectations among traders.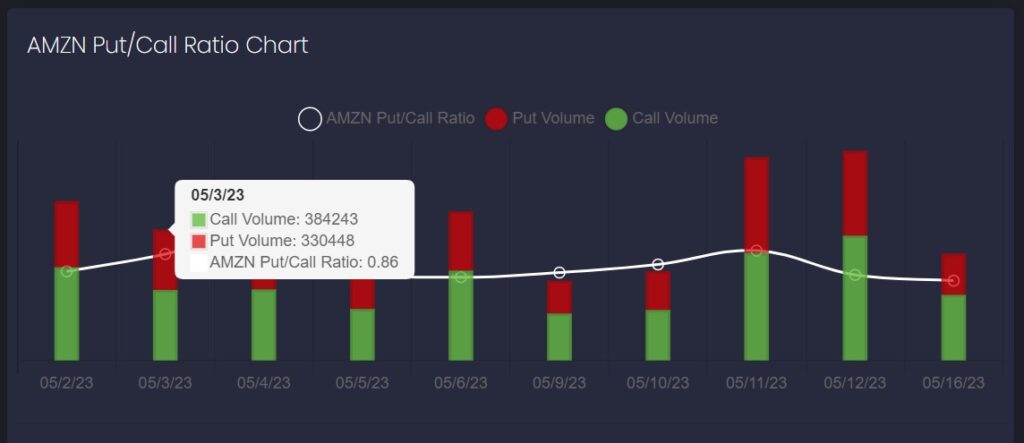 In simple terms, the put-call ratio is calculated by dividing the number of traded put options by the number of traded call options. A ratio below 1 suggests that more call options (which are typically bought when traders expect the price of the underlying stock to rise) are being traded compared to put options (which are generally bought when a price drop is expected).
Thus, a put-call ratio below 1 for AMZN during the period signals that traders were expecting the stock's price to increase, demonstrating bullish sentiment in the market. It's worth noting that this bullish expectation doesn't guarantee a price increase, but it does indicate a prevailing positive outlook among a significant number of options traders.
Conclusion
In summary, FinBrain's 10-day ahead predictions for AMZN were quite accurate, correctly predicting the direction of the price change and coming close to the real price change. News sentiment scores and options put-call ratios were also supporting the AI stock forecasts for the positive expectation on AMZN stock price. This case study underscores the potential of AI in stock market predictions and reaffirms FinBrain's expertise in this area.
FinBrain Technologies is more than just a stock prediction website. We leverage the power of AI and data-driven investing to provide a comprehensive range of services that help traders and investors make informed decisions. Whether you are an individual investor or part of an institution, FinBrain has the tools and data you need to maximize your returns.
Visit FinBrain today and start your AI and Data driven investing journey without losing any further time.
FinBrain Technologies
Twitter • LinkedIn • Instagram • Facebook
99 Wall St. Suite #2023, New York, NY 10005