Introduction
In the rapidly evolving world of finance, staying ahead of the curve is crucial. This is where the ARK Next Generation Internet ETF (ARKW) comes into play. As an actively managed ETF, ARKW aims to provide investors with exposure to disruptive and innovative internet technologies that are shaping our future.
In this comprehensive overview, we delve into the details of ARKW, exploring its company information, recent news, and the impact these have on its performance. We also take a closer look at the ARKW price forecast, examining the accuracy of these predictions and what they mean for potential investors.
Furthermore, we explore the alternative data and insights provided by FinBrain Technologies, a leading provider of AI stock forecasts and alternative financial data. By leveraging the power of AI and data-driven investing, FinBrain provides traders and investors with the tools they need to maximize their investment returns.
ETF Information
ARKW was founded by ARK Investment Management LLC, a firm known for its focus on disruptive innovation and offering investment solutions to forward-thinking investors. The ETF typically holds between 35-55 different companies, providing a diversified exposure to the next generation internet theme.
As of May 26, 2023, the ETF's net asset value stood at $50.13, with a market cap of $1.34 billion. The ETF's current price is $51.08. The YTD performance of ARKW is 30.30%. The ETF does not pay a dividend, focusing instead on capital appreciation.
Cathie Wood and ARK Investment: A Focus on Disruptive Innovation
Cathie Wood, the founder, CEO, and CIO of ARK Investment Management LLC, is a renowned figure in the world of finance known for her unique and forward-thinking investment strategies. Wood's investment approach centers on identifying high-impact innovations, with a particular focus on five key areas: artificial intelligence, DNA sequencing, robotics, energy storage, and blockchain technology.
ARK Investment, under Wood's leadership, focuses solely on disruptive innovation and offers investment solutions to investors seeking long-term growth in the public markets. The firm's strategy is to invest in "concept capital" and companies that are poised to benefit from the innovation-driven shifts coming in the future.
Wood's investment strategy revolves around innovations that have a future. She mostly watches out for AI, genetic engineering, robotics, and other technologies that are set to disrupt traditional industries and create new ones. This strategy has been described as high risk, high reward, but it has also led to significant returns for ARK's funds.
ARKW's Major Holdings: A Diverse Portfolio of Innovative Companies
ARKW's investment strategy is centered around holding a diverse portfolio of companies that are leading the way in next-generation internet technologies. Here are some of the ETF's major holdings and their respective sectors:
Coinbase Global, Inc. (COIN): Coinbase is a leading cryptocurrency exchange platform that allows users to buy, sell, and store a wide variety of cryptocurrencies. The company plays a significant role in the blockchain technology sector, providing a secure and user-friendly platform for cryptocurrency transactions.
Tesla, Inc. (TSLA): Tesla is a renowned electric vehicle and clean energy company. It's leading the way in the automotive industry with its innovative electric vehicles, energy storage solutions, and solar energy products.
Block, Inc. (SQ): Formerly known as Square, Block is a financial services and digital payments company that provides a range of solutions for businesses and individuals. The company is a major player in the fintech sector, offering services that include payment processing, point-of-sale systems, and financial services.
Zoom Video Communications (ZM): Zoom is a leading provider of video-first communication platform and web conferencing services. Its services have become particularly important in the era of remote work and online learning.
Shopify Inc. (SHOP): Shopify is a multinational e-commerce company that provides a platform for businesses to set up online stores and retail point-of-sale systems. It's a key player in the e-commerce sector, supporting businesses of all sizes in their online operations.
DraftKings Inc. (DKNG): DraftKings is a digital sports entertainment and gaming company known for its daily fantasy sports contests and sports betting platforms.
Roblox Corp. (RBLX): Roblox is an online platform that allows users to create and play games created by other users. It's a major player in the gaming and entertainment sector.
These companies represent a diverse range of sectors, including blockchain technology, automotive, fintech, communication, e-commerce, entertainment, and gaming. Each of these companies has its own strengths and is considered a leader in its respective field. This diversity is a key part of ARKW's strategy, providing exposure to a wide range of innovative technologies and sectors.
ARKW Price Forecast Performance
The performance of ARKW, as predicted by FinBrain's AI algorithms, has been remarkably accurate. Let's delve deeper into the specifics of this performance.
FinBrain's ARKW price forecast for the period between May 15 and May 26, 2023 was posted on FinBrain Terminal's before the market opened on May 15, 2023. The prediction suggested a price change of 5.26% for ARKW during this period.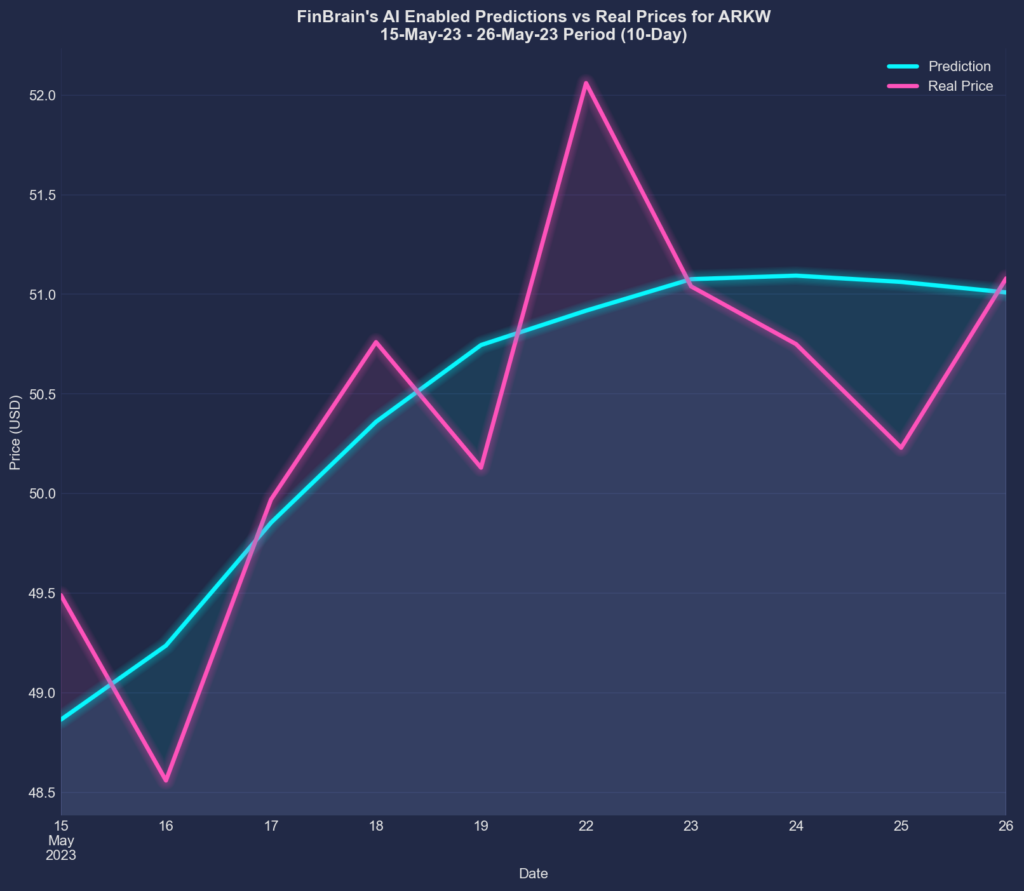 The actual price change for ARKW during this period was 5.41%. This means that the real price change was slightly higher than the forecasted change. However, the difference between the forecasted and actual price change was minimal, indicating a high level of accuracy in the prediction.
This accuracy is further evidenced by the Normalized Mean Squared Error (NMSE) for this prediction, which was 0.665. The NMSE is a measure of the accuracy of a forecast. A lower NMSE indicates a more accurate forecast. In this case, an NMSE of 0.665 suggests that the forecast was quite accurate, as the real price almost perfectly followed FinBrain's predictions.
On May 12, 2023, before the forecasts were published, ARKW's stock last closed at $48.46. By the end of the forecast period, FinBrain's ARKW price forecast was $51.01, representing a predicted increase of 5.26%. The actual closing price of ARKW on the last day of the forecast period was $51.08, representing a real price change of 5.41%.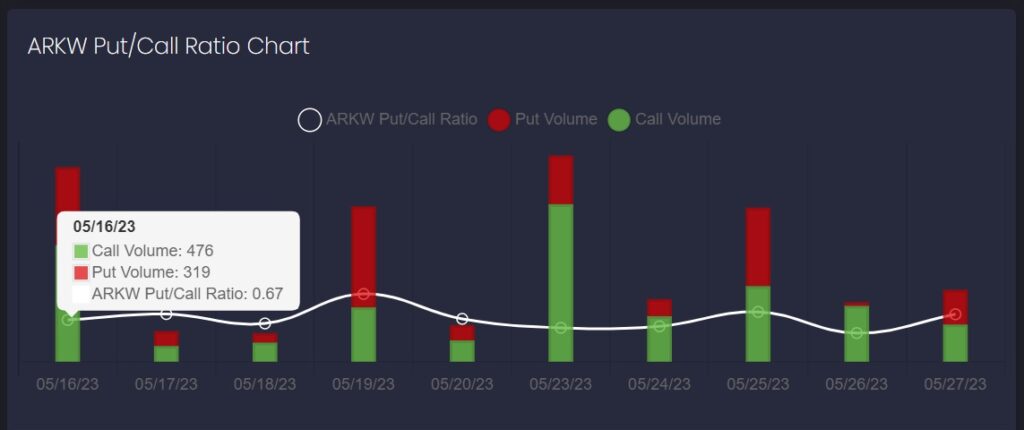 The options put-call ratio for the ticker was mostly below 1, which was also sending bullish signals for the given period.
About FinBrain Technologies
FinBrain Technologies is a leading provider of AI stock forecasts and alternative financial data. Our services are designed to help individual investors maximize their investment returns through AI-assisted and data-driven investing. We provide AI stock predictions and alternative datasets for thousands of US & World Stocks, ETFs, Index & Commodity Futures on a daily basis.
Our services include:
AI Generated Future Price Predictions
Company Daily Technical Outlook Reports
News & Sentiment Analysis Data
US House & Senate Trades
Company Insider Transactions
Options Put-Call Ratios
Mobile App Scores
For more information about our services and to see how we can help you with your investment decisions, please visit our website.
Successful Examples of AI Stock Forecasts
Our AI algorithms have been successful in predicting the price movements of various stocks. Here are a few examples:
We invite you to visit our website and explore how our AI-driven forecasts can help you make informed investment decisions.
FinBrain Technologies
Twitter • LinkedIn • Instagram • Facebook
99 Wall St. Suite #2023, New York, NY 10005