GitLab Inc. is the company behind GitLab, the web-based Git repository manager. The company provides support and services for GitLab, including hosting the GitLab software as a service, as well as training and consulting services for organizations using GitLab.
GitLab provides a range of tools for teams to collaborate on software development, including features such as a bug tracker, code review, continuous integration and deployment, and more. The GitLab software is open source and available for anyone to use and contribute to.
GTLB shares have lost more than 60% of their value since the IPO on Oct. 14, 2021 and the company is still unprofitable. However, its margins are improving and its gross margins are among the best in the software industry.
Let's take a look at how its insiders are making massive profits by perfectly timing the tops and bottoms in its share price.
GitLab Insider Transactions in 2022
FinBrain Technologies track the SEC Form-4 filings by the company insiders and publishes the data for more than 4500 publicly traded US Stocks on FinBrain Terminal to help the retail traders from all around the world access the hedge fund grade data.
Tracking the company insider transactions can give you a massive edge over the others in the markets. Let's see how.
GitLab insiders have purchased $36.8M worth of GTLB shares between May and November 2022. During the same period, they've sold 18.5M worth of GTLB shares.
Their transactions were timed almost perfectly, as seen clearly on the charts.
Company insiders have purchased GTLB shares worth millions of dollars when the prices have bottomed below $35.
GV 2021 GP, L.L.C. is a Beneficial Owner of more than 10% and they have made massive amounts of GitLab stock purchases in May 2022 and Nov 2022.
They bought approximately $37M worth of shares when GTLB share price has dipped in May and November of this year.
August Capital Management VII – another 10% owner of GitLab Inc. – have sold large amounts of GTLB shares in August 2022 when the stock price has peaked around $65.
Another interesting sale of GTLB shares by August Capital Management was recorded at the beginning of July 2022, when the stock price has made new highs around $57.
GitLab's Chief Revenue Officer and Principal Accounting Officer also made some relatively smaller sales in October and November 2022, when the stock price was making local highs.
Charts clearly indicate that the GitLab insiders have made very successful trades this year by buying at the dips and selling at the peaks.
You can keep an eye on the company insider transactions data on FinBrain Terminal to see when and where the largest shareholders and C-level managers are buying and selling their companies' stocks.
The dataset certainly has some predictive ability as seen on the GitLab example. However, let's also check what other types of alternative data available for GTLB on FinBrain Terminal say about its future price movements.
News Sentiment, Put-Call Ratio and AI Stock Forecasts for GitLab Inc.
News sentiment data for GTLB stock on FinBrain Terminal shows that the strong positive sentiment continues for the company news headlines.
Put-call ratio is also below 1, which indicates that the possibility of an increase in GTLB stock price is being traded more heavily in the markets.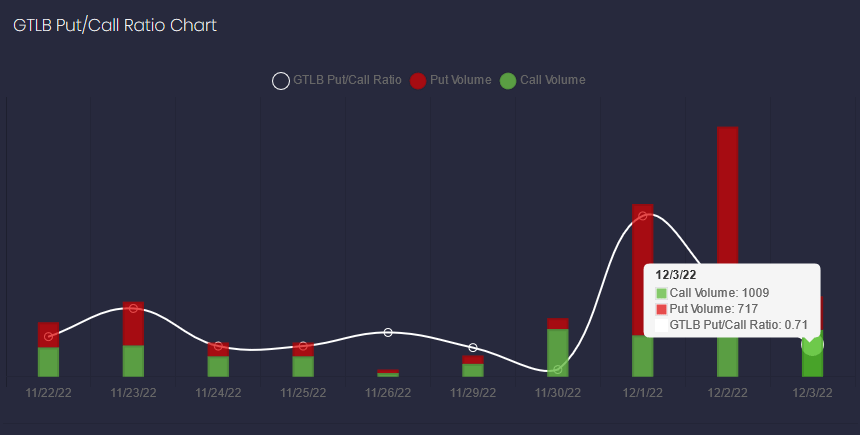 AI stocks forecasts for GTLB are also directing upwards, with an expected increase in the stock price within the next 2 week period.
Both datasets indicate that the GitLab share price has a strong upward potential in the near future.
Given the fact that the company is growing quickly and its revenue jumped by 74% to $101 million we can confirm that the datasets on FinBrain Terminal are making the right indications about GTLB share price.
When used together, the datasets on FinBrain Terminal can give you a massive edge over the others in forecasting where the stock prices are heading next.
AI stock predictions and alternative datasets such as Insider Transactions, US Congress Trades, News Sentiment Scores and much more are updated on a daily basis to get you ahead in the markets.
Start your data driven investing journey with FinBrain today and leverage the power of hedge fund grade data in your trades.
FinBrain Technologies
99 Wall St. Suite #2023, New York, NY 10005