Introduction
In the world of biotechnology, few companies have made as significant an impact as CRISPR Therapeutics AG (NASDAQ: CRSP). The company's groundbreaking work in gene editing has positioned it as a leader in the sector and a compelling investment opportunity for those interested in the future of medicine. This article will delve into the details of the company, its recent performance, and the CRSP stock forecast provided by FinBrain Technologies.
About CRISPR Therapeutics AG
Founded in 2013, CRISPR Therapeutics AG is a gene editing company that focuses on developing transformative gene-based medicines for diseases such as hemoglobinopathies, oncology, regenerative medicine, and other rare diseases. The company serves patients worldwide from its headquarters in Zug, Switzerland.
As of 2022, CRISPR Therapeutics employs 458 individuals who are dedicated to transforming the lives of patients with serious diseases. The company's commitment to innovation and patient care has led to a market capitalization of approximately $4.41 billion.
CRSP Stock Performance
As of June 27, 2023, the CRSP stock closed at $55.82, marking a year-to-date (YTD) increase of 37.84%. However, the stock has experienced a 16.25% decrease over the past year. The company's current price-to-earnings (P/E) ratio is not available, indicating that the company is not currently profitable. Furthermore, CRISPR Therapeutics does not offer a dividend yield, suggesting that the company is reinvesting its earnings back into its operations.
Recent News and Its Impact on CRSP Stock
Recent news headlines have highlighted significant developments at CRISPR Therapeutics. One of the most notable is the potential FDA approval of the company's gene-edited sickle cell treatment, which could come as early as December. This news has led to a surge in the CRSP stock price, reflecting investor optimism about the company's future.
In addition to this, CRISPR Therapeutics and Vertex announced a licensing agreement to accelerate the development of Vertex's Hypoimmune Cell Therapies for the treatment of Type 1 diseases. This partnership could potentially lead to significant advancements in the treatment of these diseases and further bolster CRISPR Therapeutics' position in the biotech sector.
AI Predictions and Alternative Data for CRSP
FinBrain Technologies, a leading provider of AI stock forecasts and alternative financial data, has provided a 10-day ahead prediction for CRSP between June 14 and June 27, 2023. The predictions, which were posted on FinBrain Terminal's CRSP forecasts page before the market open on June 14, 2023, showed a Normalized Mean Squared Error (NMSE) of 0.444. This indicates a remarkable forecast accuracy, as the real price almost perfectly followed FinBrain's predictions.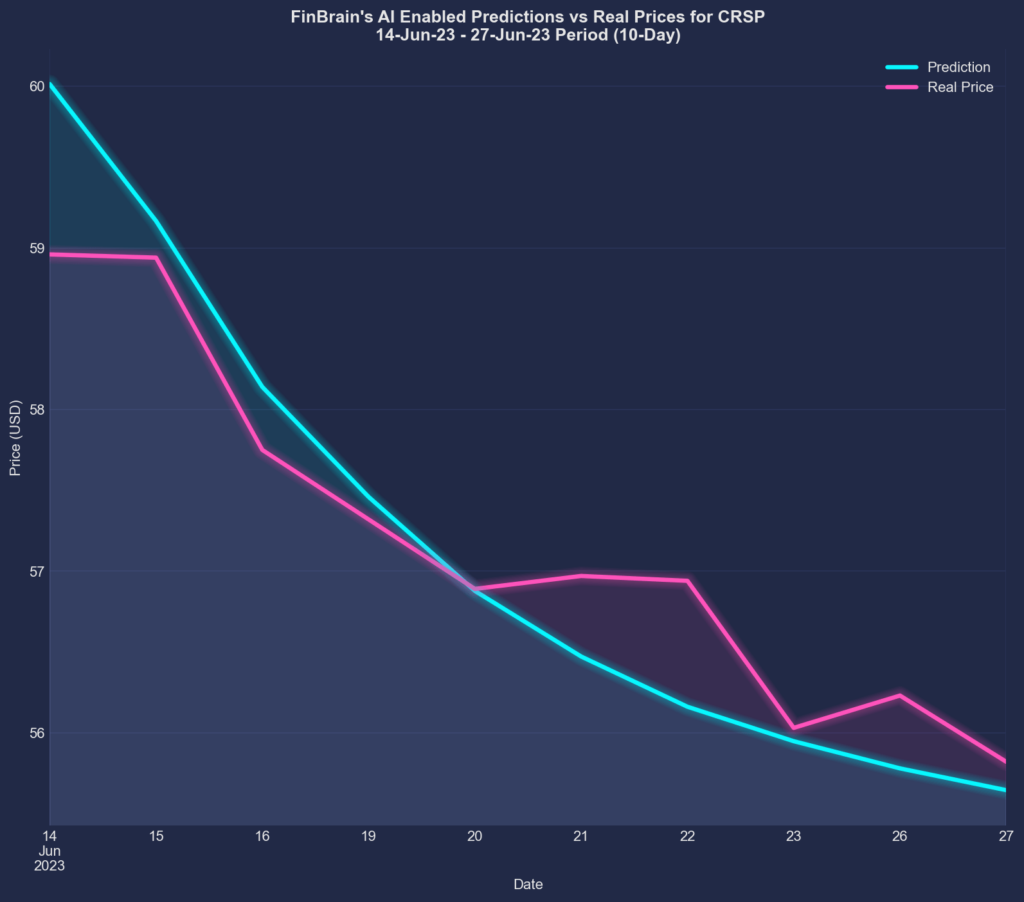 On June 13, 2023, before the forecasts were published, the CRSP stock closed at $60.79. FinBrain's CRSP price forecast for the end of the given period was $55.64, indicating a -8.46% change. The real close price on that day was $55.82, marking a -8.18% change. This shows that FinBrain's AI algorithms were able to predict the real price movement very closely.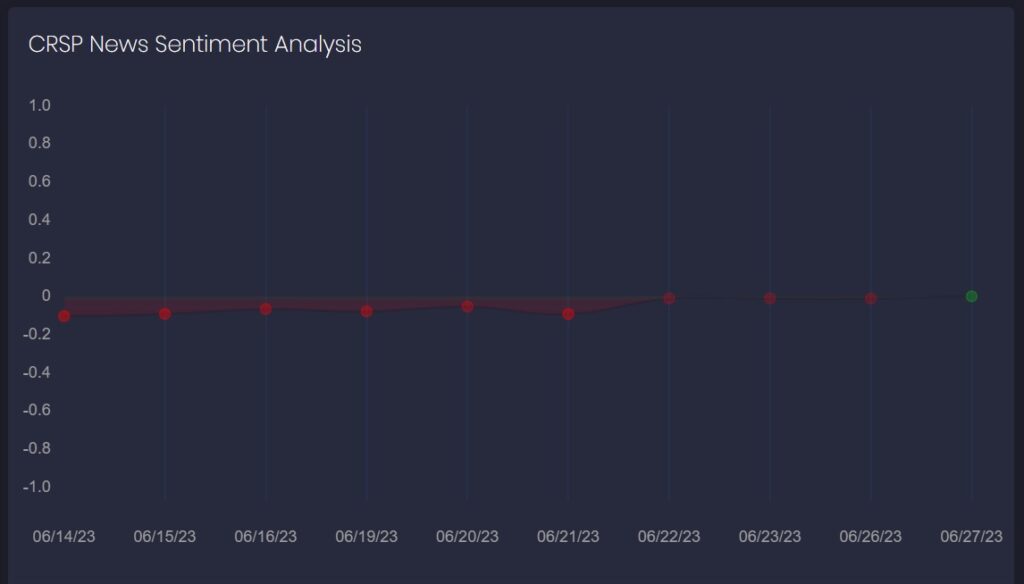 FinBrain's news sentiment score for CRSP remained slightly negative throughout the period, correctly signaling the price decline. Additionally, the company's CEO, Samarth Kulkarni, has been selling millions of dollars worth of the stock over the past few months, which also sent bearish signals. This data is also available on FinBrain Terminal in tabular form for each ticker.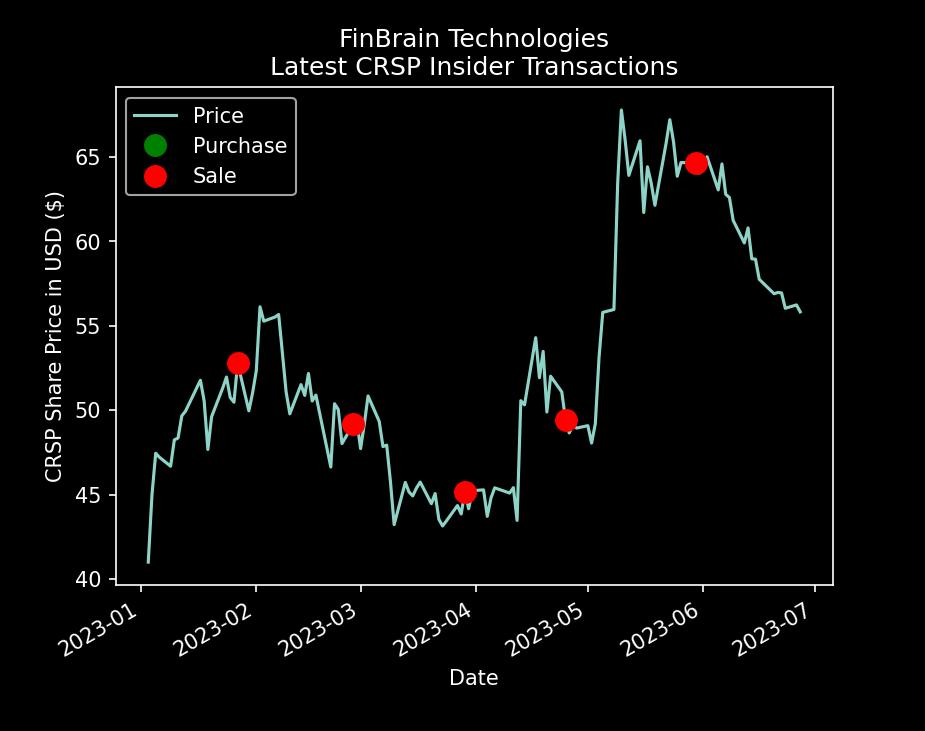 About FinBrain Technologies
FinBrain Technologies is a company that leverages the power of AI-assisted and data-driven investing to help individual investors maximize their investment returns. We provide AI stock predictions and alternative datasets for thousands of US & World Stocks, ETFs, Index & Commodity Futures on a daily basis.
Our services, available on FinBrain Terminal and through FinBrain API, include:
AI Generated Future Price Predictions: Our deep neural networks analyze massive amounts of price, technical, and alternative data daily.
Company Daily Technical Outlook Reports: These reports provide company technical status, top holders, earnings and revenue estimates, analyst recommendations, and sentiment scores.
News & Sentiment Analysis Data: Our AI/NLP algorithms analyze and score sentiment data based on news collected from 20+ major financial news sources.
US House & Senate Trades: We track trades taken by US Representatives and Senators, including stock buys/sells and corresponding amounts.
Company Insider Transactions: We provide data on trades taken by company insiders, including transaction types, number of shares, and dollar amounts.
Options Put-Call Ratios: We provide the latest traded put-call option contract volumes and ratios for bullish/bearish signals.
Mobile App Scores: We offer a glimpse of how happy a company's app users are, which can be a leading indicator to forecast the performance of a company.
Our AI algorithms have demonstrated remarkable forecast accuracy for various stocks, as evidenced by our successful forecasts for XOM, IBM, ARKW, PFE, JNJ, AMZN, and TSLA.
Our alternative datasets have also proven valuable in predicting stock price movements, as shown by our analyses of GitLab Inc, Alphabet, and Devon Energy.
To learn more about our services and how they can help you in your investment decisions, visit FinBrain's website and register today.
FinBrain Technologies
Twitter • LinkedIn • Instagram • Facebook
99 Wall St. Suite #2023, New York, NY 10005