Introduction
Today, we want to share some exciting insights about a company that has been making waves in the stock market – Carvana Co. (NYSE: CVNA). We will delve into the company's profile, its recent performance, and some intriguing insider trading activity that has caught our attention. We believe that this information could provide valuable insights for your investment strategy.
About Carvana Co.
Carvana Co., founded in 2012, is a leading eCommerce platform that specializes in buying and selling used cars. The company is headquartered in Tempe, Arizona, and operates under the Specialty Retail sector. Carvana has revolutionized the traditional car buying process by providing consumers with a comprehensive, transparent, and convenient online car buying experience.
As of 2023, Carvana employs approximately 16,600 individuals and has generated a revenue of $13.6 billion. However, it's worth noting that the company reported a net income of -$1.59 billion, indicating a challenging financial period. Despite this, the company has shown a sales growth of 6.17% in 2022.
In terms of stock performance, Carvana's current price stands at $45.62, with a year-to-date (YTD) performance that has been quite remarkable. However, the company does not have a Price to Earnings (P/E) ratio as it has not reported positive earnings. The company does not pay dividends, which is common among growth-oriented tech companies.
Carvana News Sentiment Analysis
In the days leading up to the market's opening on July 17 and 18, 2023, our News Sentiment Analysis tool detected a positive shift in the sentiment surrounding Carvana Co. This bullish sentiment was not without reason. Let's delve into the news that contributed to this positive shift.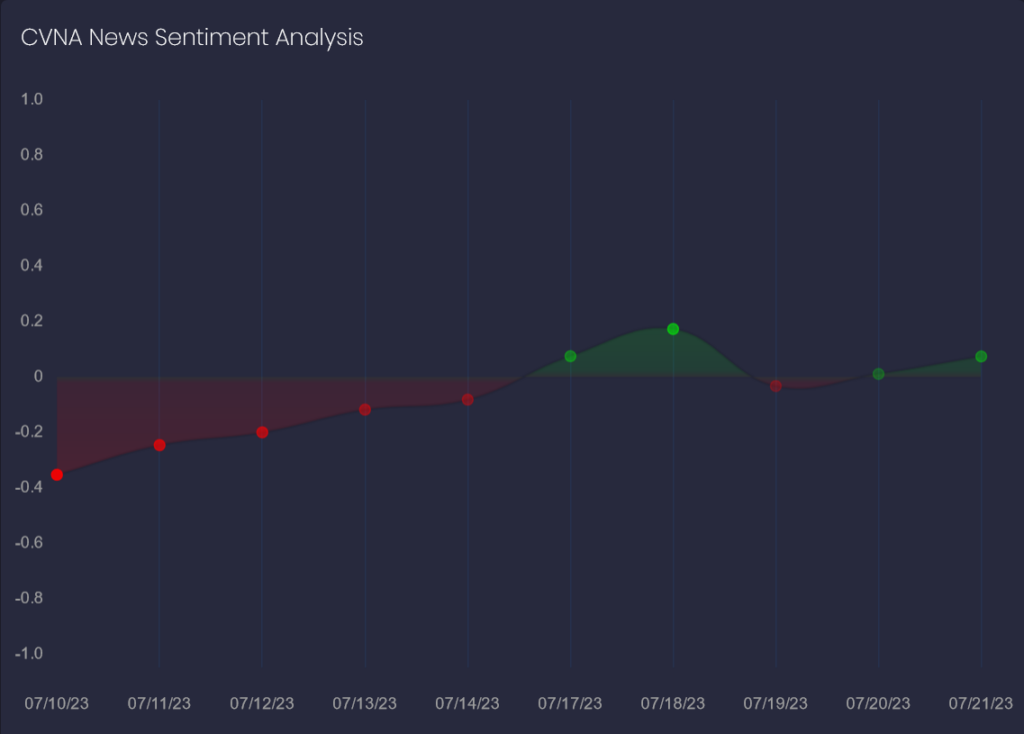 On July 17, 2023, Carvana made headlines when it announced its plans to report its second quarter results earlier than previously planned. This unexpected announcement sparked interest among investors and analysts, as it suggested that the company had positive news to share.
The following day, on July 18, 2023, Carvana's stock experienced a significant surge. In the opening six minutes of trading, the company's stock soared by 43%. This rapid increase in stock price was a clear reflection of the positive sentiment surrounding the company.
Furthermore, on July 19, 2023, Carvana reported its Q2 2023 earnings. The company's performance exceeded expectations, further fueling the positive sentiment and contributing to the stock's continued rise.
These events highlight the importance of tracking news sentiment. Positive news sentiment can often precede a rise in stock price, providing traders with valuable insights that can inform their investment strategies. At FinBrain Technologies, our AI-driven News Sentiment Analysis tool can help traders stay ahead of the curve by providing real-time sentiment scores for thousands of stocks.
Insider Trading Activity
One of the most intriguing aspects of Carvana's recent performance is the almost perfectly timed insider buys. Let's take a closer look at some of these transactions:
On November 22, 2022, Taira Thomas, President of Special Projects, purchased 35,000 shares at a cost of $6.86 per share.
On November 21, 2022, Daniel J. Gill, Chief Product Officer, bought 133,000 shares at $7.62 per share.
On November 14, 2022, Director Gregory B. Sullivan bought 8,000 shares at $10.00 per share.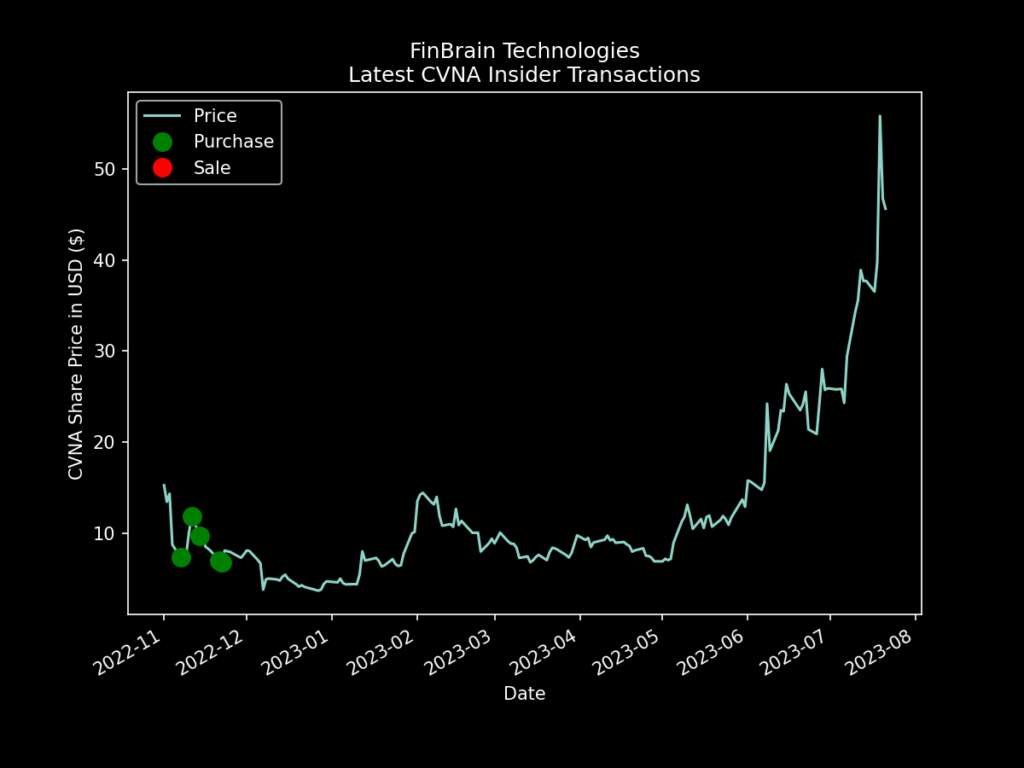 These purchases were made at a time when the stock was trading at a significantly lower price than it is today. As of July 21, 2023, the stock closed at $45.62, indicating a 565% increase since the last insider purchase at the cost of $6.86. The stock even reached a high of $55.80 on July 19, 2023, following a deal to reduce debt by more than $1.2 billion. This suggests that these insiders have seen massive returns in just 8 months and timed the dip in the stock almost perfectly.
The Power of Insider Transactions
Tracking company insider transactions can provide traders with a unique edge. Insider buys, in particular, can signal a strong bullish expectation. Insiders, after all, have the most intimate knowledge of their company's operations, financial health, and future prospects. When they put their own money on the line to purchase shares, it's often a sign they expect the stock to perform well.

At FinBrain Technologies, we have a proven track record of leveraging insider transaction data to predict stock market trends. For instance, in the case of GitLab Inc., we identified how insiders perfectly timed the bottom and top in the stock price. In another instance, we observed heavy insider selling activity on Alphabet, which signaled a decline in its share price. We also demonstrated how tracking company insider trades can make you money in the stock market, as evidenced by our analysis of Asana Inc.. These examples underscore the value of our AI-driven insights and the potential benefits they can bring to your investment strategy.
About FinBrain Technologies
At FinBrain Technologies, we provide AI stock forecasts and Alternative Financial Data such as News Sentiment Analysis, Mobile App Score Ratings, US Congress Members' trades, Option Put-Call ratios, company insider transactions, and much more. Our company leverages the power of AI-assisted and data-driven investing to help individual investors maximize their investment returns. We provide traders and investors from all around the world with AI stock predictions and alternative datasets for thousands of US & World Stocks, ETFs, Index & Commodity Futures on a daily basis.
For more detailed insights and AI-driven predictions, you can visit our FinBrain Terminal for Carvana Co. (CVNA).
Best Regards,
FinBrain Technologies
99 Wall St. #2023
New York, NY 10005