Introduction
United Parcel Service (UPS) is a renowned multinational shipping, receiving, and supply chain management company that has been a significant player in the logistics sector for over a century. This article aims to provide a comprehensive UPS stock forecast, examining the company's historical performance, recent news, and future predictions based on AI analysis.
About United Parcel Service
UPS Company Overview
Founded on August 28, 1907, in Seattle, Washington, UPS started as the American Messenger Company specializing in telegraphs. Over the years, it has grown into a Fortune 500 company and one of the world's largest shipping couriers. Today, UPS is headquartered in Atlanta, Georgia, and employs over 418,080 people as of 2022.
UPS Stock Financial Performance
As of July 11, 2023, UPS's stock price stands at $184.56, with a market capitalization of $158.52 billion. The company operates with a P/E ratio of 14.92 and offers a dividend yield of 3.51%. The company's year-to-date (YTD) stock performance shows a return of 5.44%, indicating a positive trend for investors.
Recent News and Its Impact
Recent headlines about UPS have been dominated by news of potential strike action by its workers. The latest round of negotiations between UPS and the union representing its employees have broken down without an agreement. This development could potentially disrupt UPS's operations and may have a short-term impact on its stock price. However, the long-term UPS stock forecast remains positive due to the company's robust business model and its pivotal role in global logistics.
AI Stock Predictions and Alternative Data for UPS
FinBrain's UPS Stock Forecast Accuracy
FinBrain's AI algorithms have provided a 10-day ahead prediction for UPS between June 26, 2023, and July 10, 2023. The predictions, posted on FinBrain Terminal's UPS forecasts page before the market open on June 26, 2023, showed a Normalized Mean Squared Error (NMSE) of 0.507. This figure indicates a remarkable forecast accuracy, as the real price almost perfectly followed FinBrain's predictions.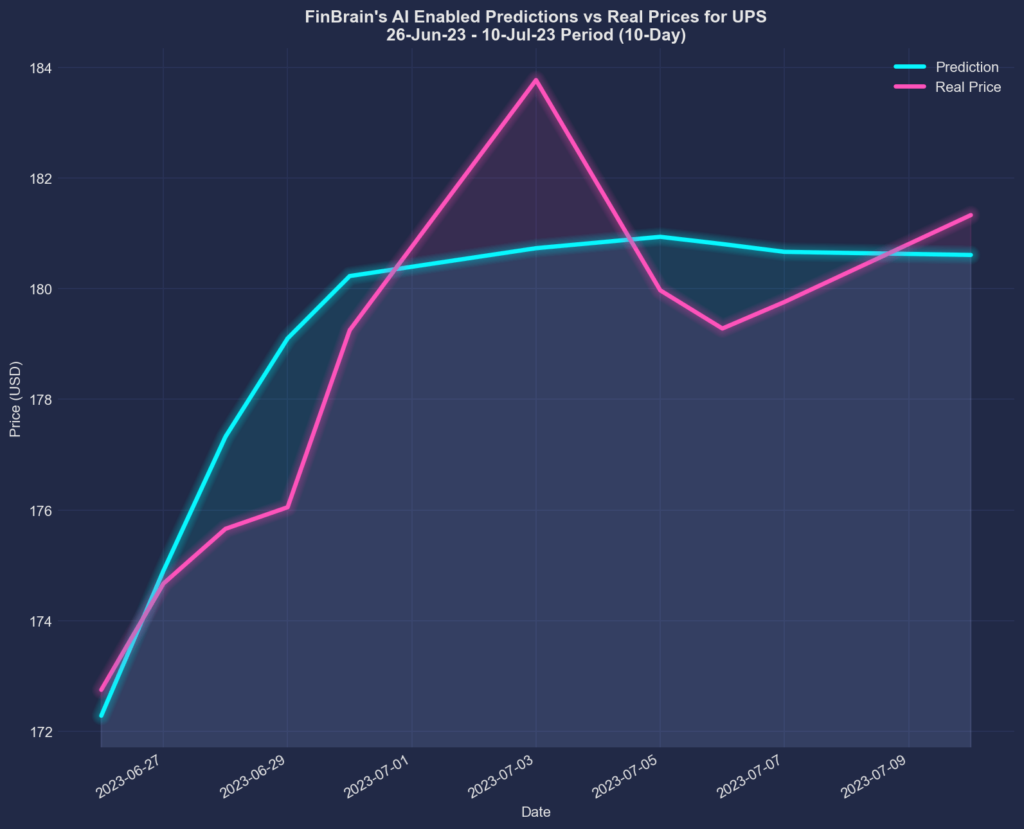 The UPS stock last close price on June 23, 2023, before the forecasts were published, was $169.29. FinBrain's UPS price forecast for the end of the given period was $180.61 (6.69%), while the real close price on that day was $181.33 (7.11%). This data shows that FinBrain forecasted a 6.69% change in UPS stock price for the given period, while the real price change was 7.11%. This close alignment between the predicted and actual price movement demonstrates the power of FinBrain's AI algorithms in predicting real price movements.
Alternative Data Sending Bullish Signals for UPS
FinBrain's news sentiment score for UPS remained in the positive territory until July 5, 2023. It then turned negative for the following two days, coinciding with a decline in the stock price. The news sentiment scores and the stock price were almost perfectly aligned for the given period.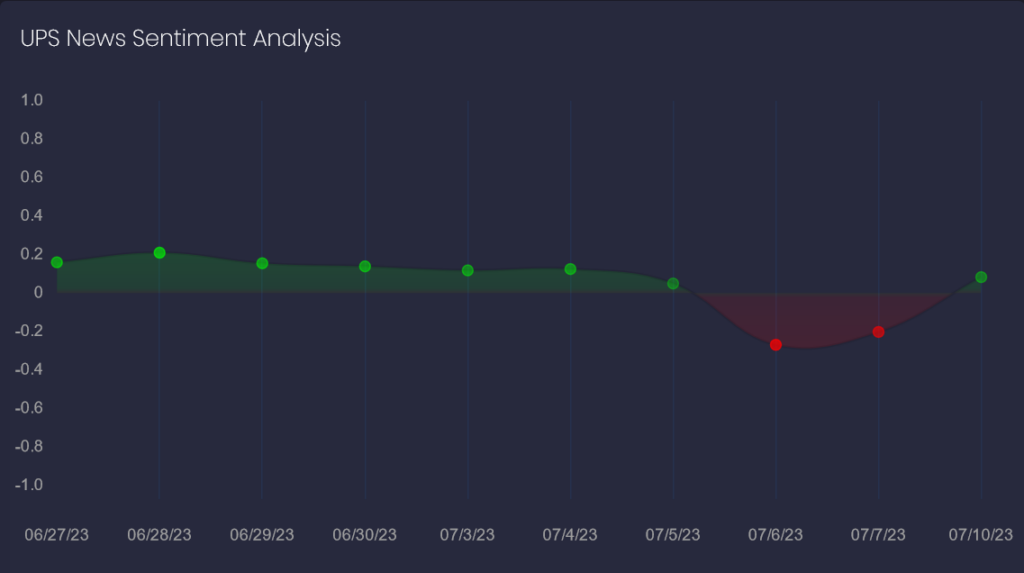 The UPS options put-call ratio remained below 1 for the majority of the given period. This data indicated that call options were traded more than put options, suggesting that traders were favoring the bullish side on the stock.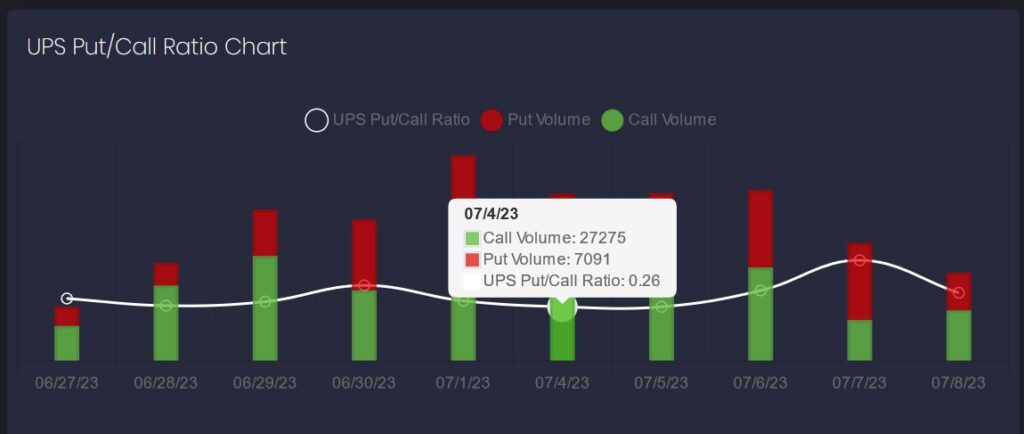 When combined, AI stock forecasts, news sentiment scores, and options put-call ratios confirmed an overall bullish outlook on the stock.
About FinBrain Technologies
FinBrain Technologies is a leading provider of AI stock forecasts and Alternative Financial Data. Our services include AI-generated future price predictions, company daily technical outlook reports, news & sentiment analysis data, US House & Senate trades, company insider transactions, options put-call ratios, and mobile app scores. We leverage the power of AI-assisted and data-driven investing to help individual investors maximize their investment returns.
FinBrain Technologies has a proven track record of delivering accurate AI and alternative data performance. Our previous blog posts provide detailed insights into our successful forecasts. For instance, our Exxon Mobil stock forecast demonstrated remarkable accuracy. Similarly, our IBM stock forecast provided a comprehensive overview and prediction of IBM's stock performance. We also took a deep dive into the ARKW price forecast, offering valuable insights for investors. Our Amazon stock forecast and Tesla stock forecast posts further illustrate how FinBrain's AI algorithms can accurately predict stock price movements, providing a competitive edge for investors.
Our services are available on FinBrain Terminal and through FinBrain API, providing traders and investors from all around the world with AI stock predictions and alternative datasets for thousands of US & World Stocks, ETFs, Index & Commodity Futures on a daily basis.
For more information and to register, visit FinBrain's website.
FinBrain Technologies
Twitter • LinkedIn • Instagram • Facebook
99 Wall St. Suite #2023, New York, NY 10005