Introduction
In the world of technology and software, Oracle Corp. (ORCL) stands as a giant with its wide range of products and services. This article aims to provide a comprehensive analysis of Oracle Corp., focusing on the ORCL stock forecast performance of AI algorithms and Alternative Data given on FinBrain Terminal. We will delve into the company's background, recent news, and how AI predictions and alternative data can provide valuable insights into the future performance of ORCL stock.
About Oracle Corp.
Founded on June 16, 1977, Oracle Corp. is an American multinational computer technology corporation that is best known for its software products and services. The company is headquartered in Austin, Texas, and as of 2023, it employs around 164,000 people worldwide.
Oracle Corp. operates in the Systems Software sector, providing products and services that address all aspects of corporate information technology environments. The company's offerings include databases and relational servers, application development, and enterprise information management software.
As of June 29, 2023, Oracle Corp. has a market capitalization of $319.69 billion, with a current stock price of $117.78. The company's year-to-date (YTD) stock performance shows a significant increase, reflecting its strong position in the market. Oracle Corp. has a Price to Earnings (P/E) ratio of 38.31, indicating investors' high expectations of future earnings growth. Furthermore, the company offers a dividend yield of 1.36%, providing an additional income stream for its shareholders.
Recent News on Oracle Corp.
Recent news headlines about Oracle Corp. reveal some interesting developments that could potentially impact the company's stock price. One significant news is Oracle's decision to spend billions on Nvidia chips this year, as stated by Larry Ellison, the company's co-founder. This move could potentially enhance Oracle's data center capabilities, thereby boosting its competitive edge in the market.
Another noteworthy news is the release of new AI features for Oracle's HR tools. While the news led to a slight dip in the ORCL stock price, the long-term implications could be positive as these AI features could enhance the efficiency and effectiveness of HR processes in organizations using Oracle's services.
AI Stock Predictions and Alternative Data
The ORCL stock forecast provided by FinBrain Technologies offers valuable insights into the future performance of Oracle Corp.'s stock. Between June 16 and June 29, 2023, FinBrain's 10-day ahead predictions for ORCL showed a remarkable forecast accuracy with a Normalized Mean Squared Error (NMSE) of 0.516. This indicates that the real price almost perfectly followed FinBrain's predictions.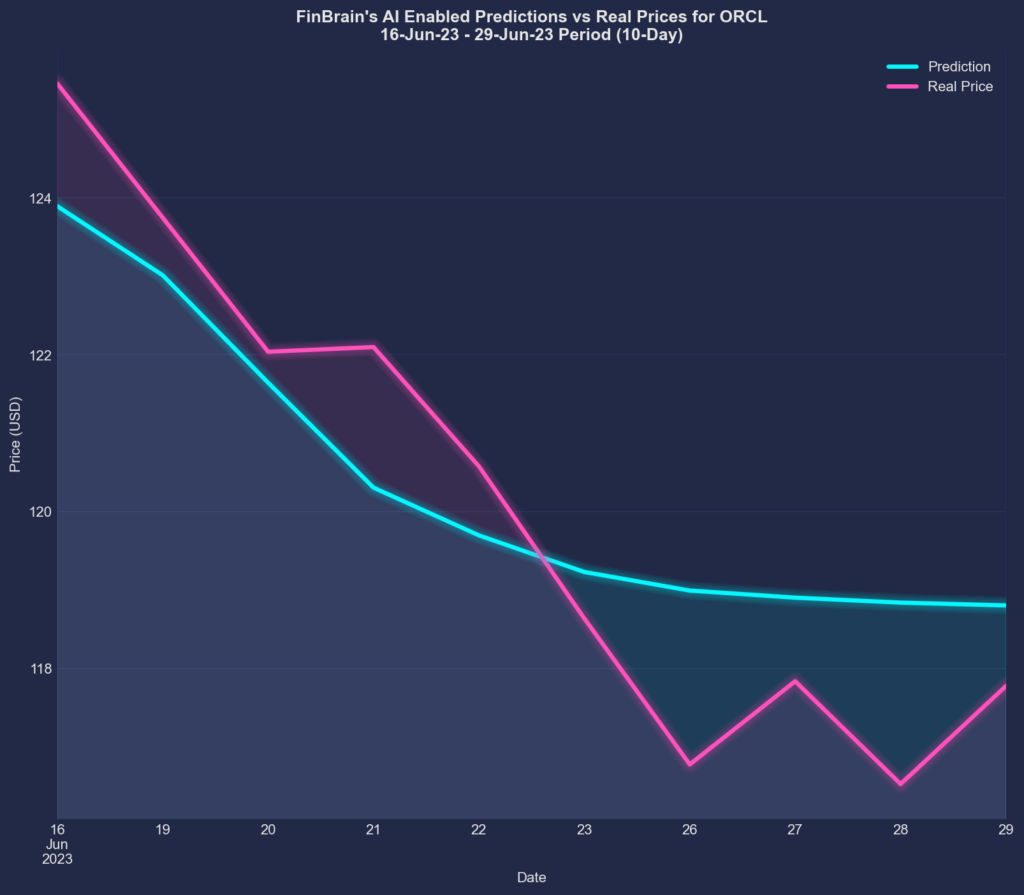 Before the forecasts were published on June 16, 2023, ORCL's last close price was $126.55. FinBrain's forecast for the end of the given period was $118.81, indicating a -6.12% change. The real close price on that day was $117.78, reflecting a -6.93% change. This shows that FinBrain's AI algorithms were able to predict the real price movement very closely.
News Sentiment Analysis Sending Strong Bearish Signals for ORCL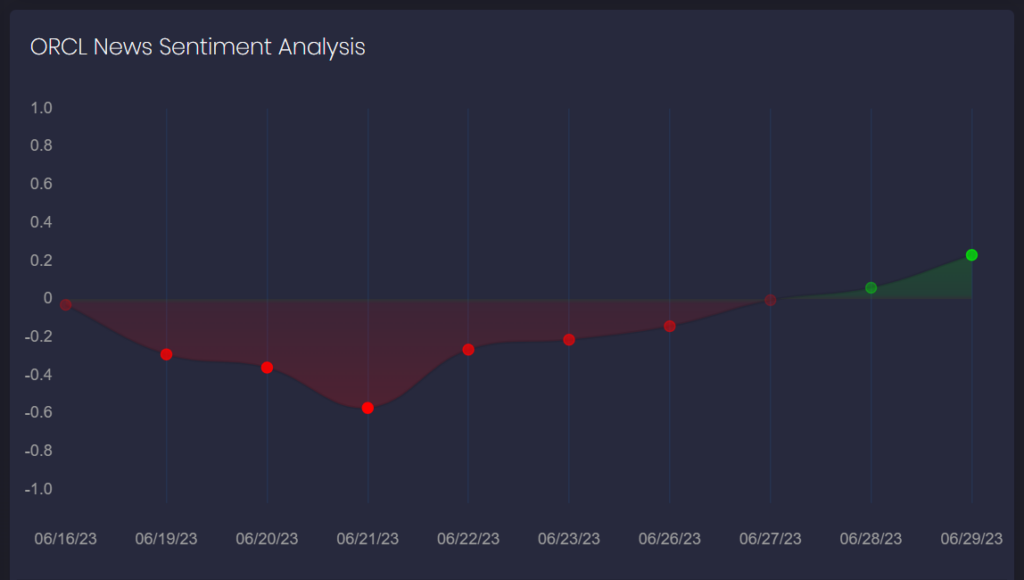 Alternative data on FinBrain Terminal also provides insightful information. For instance, FinBrain's news sentiment score for ORCL remained strongly negative for the majority of the given period, correctly signaling the price decline. Moreover, the recent selling of tens and hundreds of millions of dollars worth of stock by the company's Director and Executive Chairman was a strong bearish signal.
Company Insiders Timing the Top in ORCL Almost Perfectly
By looking at the chart below, one can say that Oracle Corp. insiders have perfectly timed the recent top in the stock price. Following company insider transactions is crucial as it can provide valuable insights into the company's potential future performance. Insiders, such as directors and executives, often have access to critical information about the company's operations, financial health, and strategic plans before it becomes public knowledge. Their trading activities can signal their confidence or concerns about the company's future.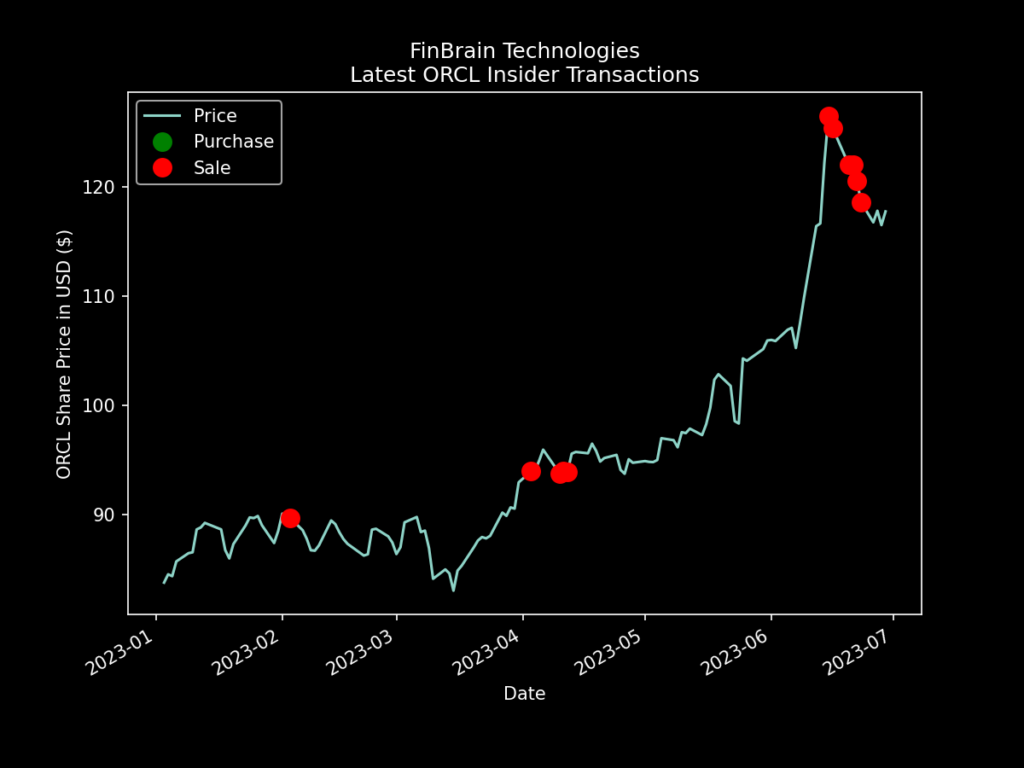 In the case of Oracle Corp. (ORCL), the recent selling of tens and hundreds of millions of dollars worth of stock by the company's Director and Executive Chairman was a strong bearish signal. This indicated that these insiders might have had concerns about the company's future performance, which was reflected in the subsequent decline in ORCL's stock price. Therefore, tracking such insider transactions can help investors make more informed investment decisions.
Using AI Stock Forecasts and Alternative Data in Combination
When AI stock forecasts, news sentiment data, and company insider transactions are used in combination, it can significantly increase the accuracy of the forecast, providing investors with a more reliable basis for their investment decisions. By leveraging the power of AI and alternative data, investors can gain a more holistic understanding of the market dynamics and make more informed decisions.
About FinBrain Technologies
FinBrain Technologies is a leading provider of AI stock forecasts and AlternativeFinancial Data. Our company leverages the power of AI-assisted and data-driven investing to help individual investors maximize their investment returns. We provide traders and investors worldwide with AI stock predictions and alternative datasets for thousands of US & World Stocks, ETFs, Index & Commodity Futures on a daily basis.
Our services, accessible via FinBrain Terminal and FinBrain API, include:
AI Generated Future Price Predictions: We collect and analyze massive amounts of price, technical, and alternative data daily using deep neural networks.
Company Daily Technical Outlook Reports: These reports provide company technical status, top holders, earnings and revenue estimates, analyst recommendations, and sentiment scores.
News & Sentiment Analysis Data: We analyze and score sentiment data based on news collected from 20+ major financial news sources using AI/NLP algorithms.
US House & Senate Trades: We track trades taken by US Representatives and Senators, including stock buys/sells and corresponding amounts. This data can yield decent returns as US congress members often have information before the markets.
Company Insider Transactions: We provide information on trades taken by company insiders, including transaction types, number of shares, and dollar amounts.
Options Put-Call Ratios: We provide the latest traded put-call option contract volumes and ratios for bullish/bearish signals.
Mobile App Scores: We offer a glimpse of how happy a company's app users are, which can be a leading indicator to forecast the performance of a company.
Our AI stock forecasts have been successful in predicting the price movements of various stocks, as evidenced by our XOM, IBM, and ARKW stock forecasts, among others. Our alternative datasets have also proven valuable in predicting stock price movements, as seen in our analysis of CRSP and GitLab Inc stocks.
To learn more about our services and how they can help you in your investment decisions, visit and register on our website.