Teladoc Inc. stock price dropped 33% yesterday in the after-hours trading session as the company posted a loss of $6.67 billion in the first quarter of 2022.
The company still remains unprofitable despite claiming to be the market leader. TDOC stock has already lost 80% from its pandemic highs and it still looks expensive according to the analysts.
Could you have seen the decline in TDOC stock coming before the Q1 2022 results were declared?
The answer is yes you could, only if you closely tracked the alternative data for Teladoc Inc. on FinBrain Terminal.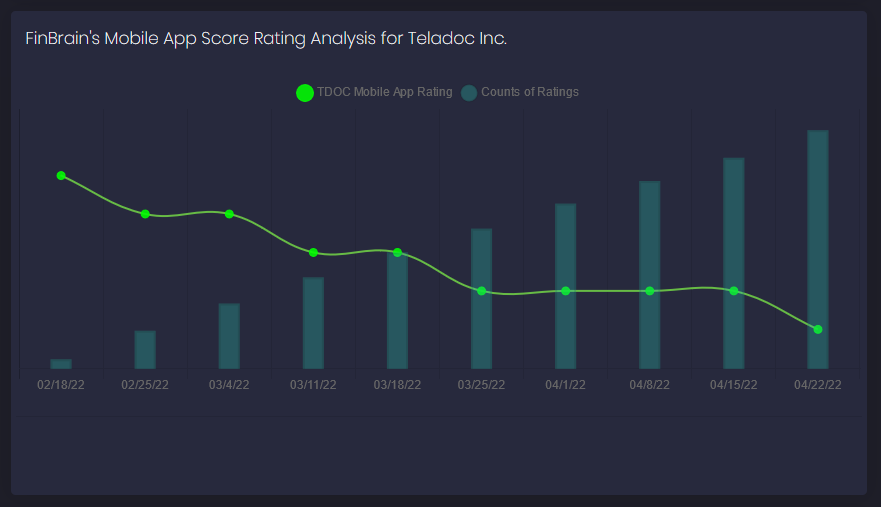 Ratings for Teladoc's Telehealth & Therapy app on mobile app store were in a clear declining trend for the last 3 months as seen on the graph above. The data indicates that the users of the app were not so happy with the app/service, so that the overall app rating was in a clear downfall.
If you just took a glimpse at the graph above, you could spot the downtrend in the app scores and conclude that the decreasing user sentiment would eventually lead to worse earnings results for Teladoc Health.
As seen from the example above, the app scores could be used as a leading indicator that reflects the users' adoption of a company's services. And if the users aren't happy with the apps and digital services, we can conclude that the trouble is coming for the company.
You can explore the alternative data and stock forecasts for TDOC on FinBrain Terminal.
Most Mentioned Tickers on World's Largest Retail Trader Community: r/wallstreetbets
We also believe that keeping an eye on the World's largest retail trading community to spot the most hyped stocks on the social media. This doesn't necessarily mean that you should trade these stocks or ETFs, however, you can expect large swings on these assets.
The graph above shows the most mentioned tickers on WallStreetBets for the last 24 hours. FB was the most mentioned stock, as Meta Inc. (FB) share price spiked more than 12% in after hours trading yesterday. At the same time TDOC got hammered 33% after the Q1 earnings report was released.
You can also check the most up-to-date stock mentions going on in the Internet's largest retail trading community by visiting wsb.finbrain.tech.
FinBrain Technologies democratizes AI and Alternative Data technologies for the retail traders worldwide to give them the informational advantage over the markets. Large scale hedge funds have exploited the power of the data, algorithms and computers for many years to gain an unfair edge over the retail traders.
Today, financial data, algorithms and computational resources are at the retail traders' disposal and FinBrain uses these technologies to serve the traders from all over the world with the alpha generating financial data.
Visit us on www.finbrain.tech to take advantage of the cutting edge AI driven tools and Alternative data on your investment decisions.
FinBrain Technologies