FinBrain's research team continues to add new features and datasets to the Terminal and API, which can help the traders and investors make better informed decisions. Our team continuously looks for ways to collect and interpret the alternative datasets that can give our subscribers the edge over the others out there in the markets.
Our newly released Publicly Traded Companies' App Scores dataset covers the weekly app scores and review counts data for more than 350 stocks listed under DOW30, S&P500, NASDAQ and NYSE indexes. The app scores dataset can be used as a leading indicator to forecast the performance of a specific company, by looking at how the appreciation for the mobile services have changed over the time.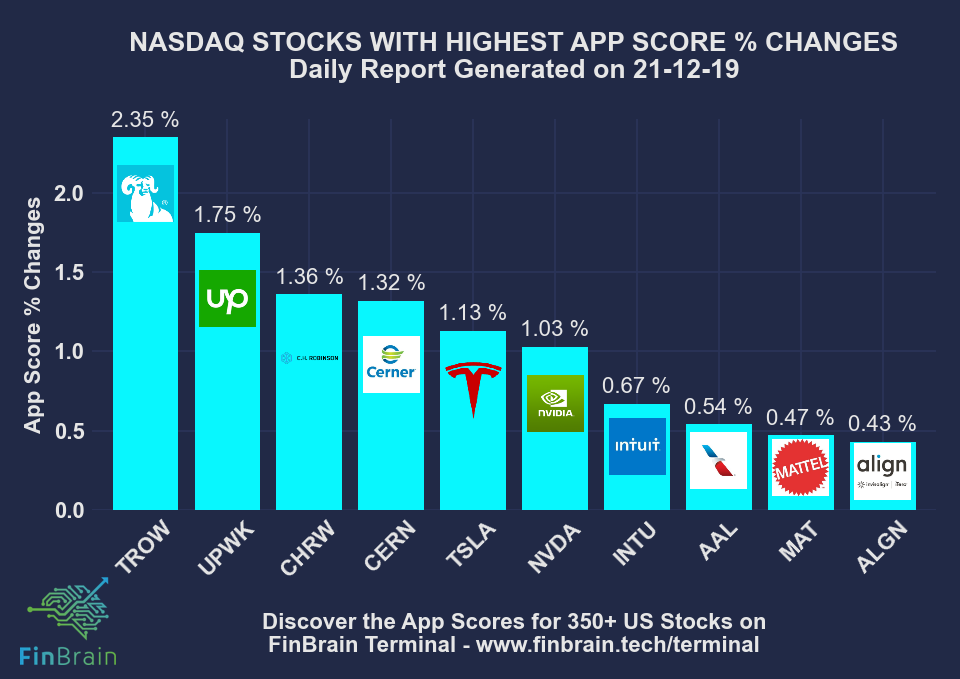 T. Rowe Price Personal App's score has increased 2.35% within a week. Upwork for Freelancers and C.H. Robinson Worldwide Inc.'s Navisphere Carrier apps followed TROW's mobile app with 1.75% and 1.36% weekly increase in app scores respectively. Cerner Corp.'s HealtheLife and Tesla Inc.'s Tesla also made the #4 and #5 apps with the highest percent change in app scores during the last week.
The other 5 NASDAQ stocks whose apps made it to this week's top 10 app score changes list are : NVDA – NVIDIA GeForce NOW, INTU – TurboTax: File Tax Return – Max Refund Guaranteed, AAL – American Airlines, MAT – Hot Wheels id and ALGN – My Invisalign – Official App.
The data is collected every Friday, and can be accessed on FinBrain Terminal and through FinBrain API. You can discover how the apps for more than 350 US stocks are performing and use take advantage of the alternative datasets on FinBrain to generate alpha and beat the markets.
We wish you a successful trading week.
FinBrain Team