Did you check how the markets feel about the specific stocks on FinBrain Terminal?

If not, here are the top 10 stocks listed under S&P500 index, that have the highest news sentiment scores for 12-12-2021. Our AI algorithms collect, read and analyze the news headlines for you and quantify them into sentiment scores for each stock. The scores that are closer to 1 have more positive sentiments, while the ones closer to -1 have the more negative news sentiments.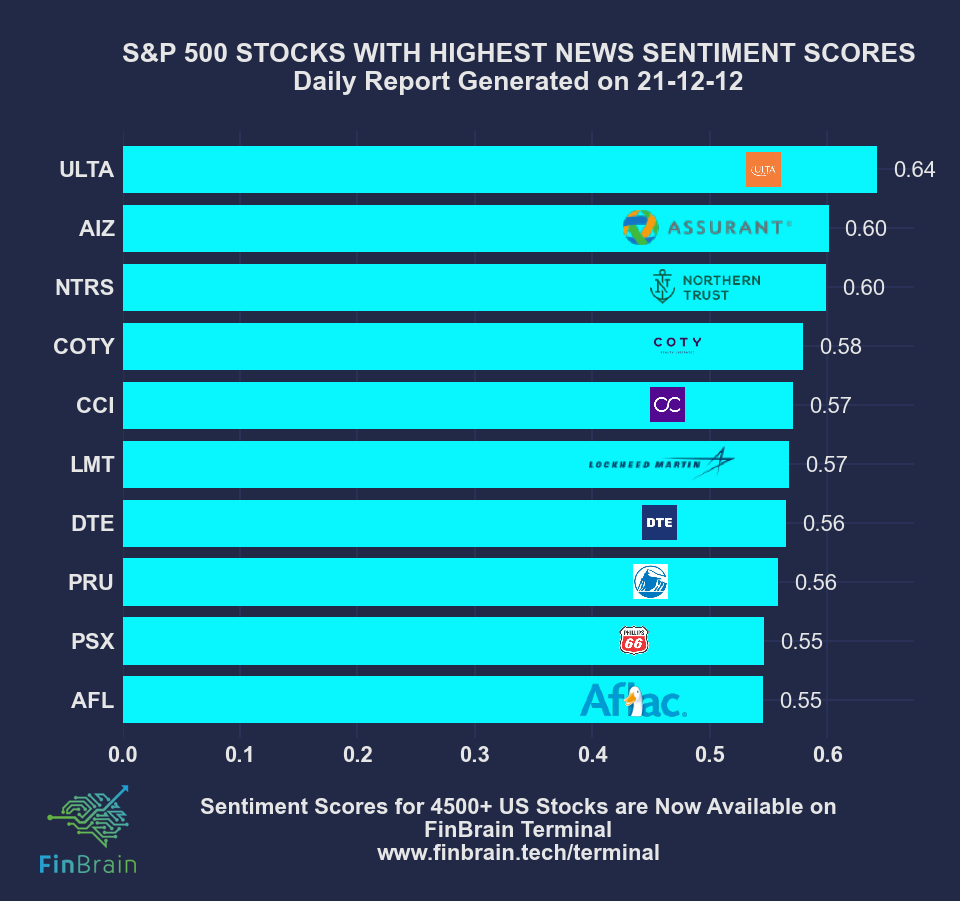 ULTA – Ulta Beauty stock had the highest sentiment score among the S&P500 stocks, after announcing a strong earnings report recently. AIZ, NTRS, COTY and CCI followed ULTA as the other stocks that made to the top 5 highest sentiment scores under S&P500.
FinBrain's algorithms quantify the text data using dedicated AI models. These models were trained on large financial news datasets to exhibit the best performance in understanding and quantifying the news data into "sentiment scores". The generated scores make it easy for traders and investors to figure out if the news about a specific stock is positive or negative. We collect the headlines from 20+ largest financial news sources everyday, for 4500+ US stocks. Our AI algorithms collect and analyze the most recent news headlines for each individual stock and generate a sentiment score for every single one of them.

The last 10 day's sentiment data is available on FinBrain Terminal, where you can see how the news sentiment evolved during the past days. You can also retrieve the full historical range of sentiment scores for every single US stock, through FinBrain API. You can also explore AI driven stock predictions and alternative financial datasets through FinBrain Terminal and FinBrain API.

We wish you a successful week.

FinBrain Team
www.finbrain.tech
[email protected]